Solar Wind and Fuel Cells to Fuel Economic Growth
February 20, 2003 CE|news
Source: Clean Edge News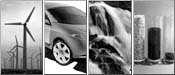 Clean Edge, Inc., the Clean-Tech Market Authority, today released its annual "Clean Energy Trends 2003" report, projecting that solar photovoltaics (PV), wind power, and fuel cells will expand from a $9.5 billion market today to $89 billion by 2012. Additionally, Clean Edge released the top five clean-energy trends to watch in 2003 (available for free download at www.cleanedge.com). Top trends to watch include:
Clean Energy Gets Centralized – wind turbines and solar farms will grow in size and power an entirely new class of renewable energy "utility." For example, new wind farms are now reaching utility-scale, with some approaching 300 MW in size.


Hydrogen from Solar, Wind, and Biomass -- innovations at various government and commercial labs are helping scientists reach the Holy Grail of hydrogen produced from sunlight, wind, and other clean-energy sources. While still years from commercialization, multinationals like Honda and startups like Virent Energy Systems are at the forefront of these efforts.


US Develops Weapons of Mass Salvation – military applications and funding are helping to build remote clean-energy technologies, such as micro-fuel cells, for soldiers in the field. Military procurement could help dramatically lower the costs of clean-energy technologies, as it has in the past with transistors and other technologies.


Solar PV Breaks Through Price Barrier – breakthroughs in solar PV could make a future of "solar without subsidies" a reality by the end of this decade. Factors contributing to these advances include mass manufacturing build-out and revolutionary new PV manufacturing technologies.


Grid Optimization – utilities will find new ways to optimize their existing grids to greatly increase efficiency, dramatically reducing costs and the need for additional power plants. Smart software and related technology could also make renewable energy sources more cost-competitive.
The report also outlines clean-energy investment trends and issues clean-energy revenue projections for 2002-2012. According to Clean Edge research, solar photovoltaics (including modules, system components, and installation) will grow from a $3.5 billion global industry in 2002 to more than $27.5 billion by 2012. Wind power will expand from $5.5 billion in 2002 to approximately $49 billion in 2012. And fuel cells for mobile, stationary, and portable applications will grow from $500 million to $12.5 billion over the next decade.
The report also finds that corporate, public, and private-equity investments in clean energy are faring relatively well in the current economic downturn. "A number of factors including state-based renewable portfolio standards, increased corporate activity, and continued venture capital investments are demonstrating the strength of the clean-energy sector," says Ron Pernick, co-founder of Clean Edge.
"Venture investments in clean-energy technology now represent 2.3 percent of total venture activity, up from just 0.7 percent three years ago," explains Joel Makower, co-founder of Clean Edge. "While total investments are down over the last couple of years, clean energy continues to gain a larger portion of the overall market."
Clean energy technologies -- including solar PV, wind power, biomass, and fuel cells -- offer significant and tangible economic, environmental, and social benefits, according to Clean Edge. These technologies offer solutions to such pressing issues as energy dependence, security issues, resource scarcity, and climate change while creating economic opportunities for entrepreneurs, policymakers, and investors.
Email this page to a friend


Updated: 2016/06/30
If you speak another language fluently and you liked this page, make a contribution by translating it! For additional translations check out FreeTranslation.com (Voor vertaling van Engels tot Nederlands) (For oversettelse fra Engelsk til Norsk)
(Для дополнительных переводов проверяют FreeTranslation.com )