Feature Story — May 2002 Volume 26, Number 5
Wind Power Blowing Worldwide
BY KATHY KOWALENKO, Editor, The Institute
Winds whirling through the Australian outback, over India's mountain ranges or across the prairies of Texas, USA, are natural energy sources now being harnessed beyond small-scale, high-cost power generation applications. Wind farms are sprouting in these locations and in Greece, Spain and New York, USA, among others. Wind farms are even being built off the coasts of Ireland and the United Kingdom.
"Wind economics and technology are driving costs down," said Bob Gates, Enron Wind, USA, a leading wind turbine manufacturer. "This can be attributed to investment by taxpayers, increases in turbine size, and research and development efforts, all of which have made this form of energy competitive with coal and gas." Gates was one of several wind-energy experts who participated in the "Harnessing Untapped Wind Power Worldwide" panel discussion held at the 2002 IEEE Power Engineering Society Winter Meeting.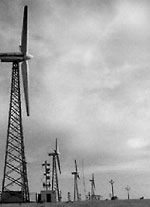 With world power demand increasing, electricity costs spiraling upward and investors' new willingness to fund green power, the wind industry's timing could not be better.
In 2001, Europe and the United States shattered previous records for wind power generation. Another 4,500 megawatts (MW) of wind power capacity was added to the European electricity grid, an increase of more than 35 percent over 2000, according to the European Wind Energy Association. The U.S. wind energy industry installed new equipment that can generate nearly 1,700 MW in 16 states, according to the American Wind Energy Association. Total worldwide wind power capacity is now estimated at more than 24,000 MW.
Germany led the way in wind energy installation last year followed by the United States, Spain, Denmark and India.
India's experience
"The wind energy sector has been one of the great success stories of the renewable energy development program in India," said Rakesh Bakshi, chairman of RRB Consultants & Engineers Pvt., Ltd. Bakshi's paper was discussed at the Winter meeting panel session. His company has been in the new and renewable energy source field in India for almost 17 years and has established several wind power plants across the country.
India is the fifth largest producer of wind energy and has one of the world's largest renewable energy programs. The country's present energy mix is 71 percent thermal, 25 percent hydro and four percent nuclear and renewables.
The total capacity of wind power in India in 2001 was 1,507 MW. This saved more than 3 million tons of coal and avoided approximately 56,000 tons of sulfur dioxide, and 8.7 million tons of carbon dioxide pollution, according to Bakshi.
"Part of the success of this program can be attributed to various incentives from the government," he said. These incentives include 100 percent depreciation of capital equipment investment for the first year, a five-year tax exemption on income from generation sales and buy-back of power generation by state electricity boards at remunerative prices.
Based on a recent electric power survey of demand projections, more than 100,000 MW of additional generation capacity needs to be added to India's grid networks by 2012 to bridge the gap between supply and demand of power, Bakshi said.
He predicts that over the next 10 years, India will be among the top three wind power producers in the world.
Help to overcome growth barriers
More countries might invest in wind energy but the lack of reliable and detailed wind energy resource data is a significant impediment to large-scale use in many parts of the world said panelist Dennis Elliott of the U.S. National Renewable Energy Laboratory (NREL), Golden, Colo., USA. To overcome this barrier, he said the NREL has developed large-area wind resource maps to accurately assess the wind resources and produce detailed high-resolution wind maps for anywhere in the world. These maps integrate global terrain, climatic data sets, Geographical Information Systems technology, and analytical and computational techniques.
NREL and the United Nations Environment Programme are working on a new initiative to expand wind resource mapping throughout the world, including Africa, Asia and Latin America, he said.
"This new initiative, which will specifically target countries that have shown interest in wind energy but lack sufficient knowledge of their wind resources, is another significant step toward harnessing untapped wind power around the world," Elliot said. He noted there was regional potential in Africa, Eastern Europe and the former Soviet Union.
Email this page to a friend


Updated: 2016/06/30
If you speak another language fluently and you liked this page, make a contribution by translating it! For additional translations check out FreeTranslation.com (Voor vertaling van Engels tot Nederlands) (For oversettelse fra Engelsk til Norsk)
(Для дополнительных переводов проверяют FreeTranslation.com )