May 2002
Background | Energy | Oil | Natural Gas | Coal | Electricity | Profile | Links
Australia
Australia is the world's leading coal exporter and has very large natural gas reserves as well. Australia's proven oil and natural gas reserves have nearly doubled in recent years, though there is much exploration yet to be done. Infrastructure is being developed to bring much more of Australia's natural gas reserves to market. Australia is already the third-largest LNG exporter in the Asia-Pacific region.
Note: information contained in this report is the best available as of May 2002 and can change.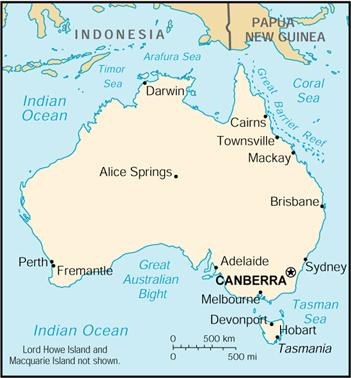 BACKGROUND
The Australian economy closed 2001 well ahead of expectations. Real gross domestic product (GDP) grew by 4.1% over 2001, well exceeding both international expectations and the global growth rate of 2.8%. The Australian economy, which is heavily dependent on trade, was bolstered in 2001 by the declining value of the Australian dollar as well as by growing demand for raw materials from developing Southeast Asian countries. Internally, expansionary governmental policy over the past few years has fostered significant increases in domestic consumption. As a result, Australia weathered both 1997's Asian financial crisis and the 2001 global economic slowdown much better than many had expected. For the past 10 years, Australia has been the world's fastest growing developed economy.

Australia's Liberal Party, under Prime Minister John Howard, retained power after elections held in November 2001. They remain in coalition with their junior partner, the National Party. The Liberals have stimulated domestic consumption by overhauling the tax system in 2000 and cutting interest rates six times in 2001. Australia's next election is scheduled for late 2003.
ENERGY
Australia is one of the few OECD countries that is a significant net energy exporter.
Coal is Australia's largest export commodity, and accounts for 44% of the country's total energy needs. Australia is also a net exporter of natural gas. However, the country is becoming increasingly dependent upon foreign oil. A rapidly expanding economy and declining domestic oil production have led some observers to forecast an energy supply crisis in the next 10 years. In addition, stagnating foreign investment, an undersized natural gas market, and difficulty transmitting electricity across the country have led the government, industry leaders, and international observers to call for a new long-term energy strategy.

On June 8, 2001, the Council of Australian Governments convened to lay the groundwork for Australia's new energy strategy. The body acknowledged the country's energy problems and agreed to an independent review of the energy market. Debate over the makeup the review board, however, has paralyzed the reform process, with no immediate solution expected. Once a review body is decided upon, the assessment is expected to take another 12 months.

Among the suggestions put forth by industry and international observers are: 1) new incentives for investment and exploration in Australia's petroleum industry; 2) encouragement for new players into the national natural gas market 3) tax reform that will restore the profitability of pipeline operators; and 4) investment in transmission and infrastructure to provide a reliable supply of electricity.

OIL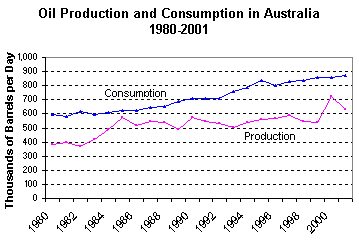 Australia produced an average of 633,000 barrels per day (bbl/d) in 2001 and consumed an average of 872,000 bbl/d, resulting in net imports of 239,000 bbl/d. By comparison, net oil imports in 2000 averaged only 54,000 bbl/d. This growing oil deficit has garnered significant interest in recent months and propelled public and private actors to address the country's growing fuel insufficiency.

Australia's expanding oil deficit is primarily a result of demand quickly beginning to outpace supply. Petroleum consumption has grown by only 3% since 1995, but is expected to rise in tandem with Australia's growing economy over the next 20 years. Despite reserves estimated at 3.5 billion barrels in 2002 (a 20% increase over 2001) Australia's Ministry of Industry, Tourism, and Resources, estimates that Australia has only ten years of oil left. According to the Ministry, Australia is using oil three times faster than it is finding it. By 2010, the country is expected to slide from 80% self-sufficiency to 40%.

Oil production had increased gradually since 1980, peaking in the year 2000 at 805,000 bbl/d. In 2001, as was expected, production fell dramatically. Declines were due primarily to decreasing production from the Cooper-Eromanga and Gippsland basins. The country's other two oil basins, the Carnarvon and Bonaparte, have both yielded increasing amounts of oil in recent years, but have been unable to keep up with the country's rapidly growing demand.

Observers and players have called for an overhaul of the industry. Critics suggest that a new tax regime, with a defined legal structure and incentives for frontier, deep-water, exploration are crucial to spurring more investment in Australia. Some speculate that solving these issues might unlock the country's large hydrocarbon potential. Unocal, Anadarko, and several Japanese firms have all expressed interest in developing projects in Australia. On March 26, 2002, Apache announced three new hydrocarbon structure discoveries in the Carnarvon Basin. Australian firms Bligh Oil and Minerals Corp. and Roc Oil have also recently announced finds in the nearby Beibu Gulf, located off China's Southwest shore. The Perth Basin, Carnarvon Basin, and Cooper Basin are all potential sites for further exploration.

Australia also has shale oil reserves in the northeastern state of Queensland. Some analysts estimate Queensland could hold up to 30 billion barrels of shale oil. The company developing Queensland's shale oil, Southern Pacific Petroleum/Central Pacific Minerals (SPP/CPM), however, has until recently been unable to capitalize upon this resource due to a struggle with environmental activists from Greenpeace. Since 1998, Greenpeace has been staging public demonstrations in Queensland and pressuring Australian refiners to refuse shale oil. Greenpeace considers shale oil, which is produced by subjecting shale rock to intense heat, to be highly polluting and energy intensive. In 2001, all four major Australian refining firms refused to purchase Queensland's shale oil, despite government excise rebates, forcing the industry to look to the government for support in order to stay afloat. On May 14, 2002, the government granted temporary support by extending existing excise rebates, originally designed only for the domestic sale of shale oil products, to international markets for a period of 12 months. During this time, SPP/CPM will look for international as well as domestic buyers.

Refining
Australian refiners lost $160 million across refining and marketing in 2000. Rising crude oil prices, lower product prices, and increasing competition from neighboring Southeast Asian states all have put tremendous pressure on Australia's downstream petroleum sector. The significant losses suffered by Australian refiners have prompted industry insiders and the government to call for a restructuring of the Australian refining industry.

Australia has ten refineries, dominated by four companies, with a total crude oil distillation capacity of 846,250 bbl/d. The country's three biggest refineries are: British Petroleum Australia's Kwinana refinery with a capacity of 158,500 bbl/d of crude oil; ExxonMobil's Altona refinery with a capacity of 130,000 bbl/d of crude oil; and Caltex's Kurnell refinery with a capacity of 114,000 bbl/d. These refineries, along with the country's other seven, have all faced declining refining gross margins in recent years. According to a 1998 government study of the downstream petroleum industry, Australian refiners are at a significant disadvantage in the global market place. The small size of Australian refineries when compared to larger neighboring facilities concedes a significant economy of scale to their competitors. Also, the country's refineries were built according to a 1970's government mandate that requires new refineries be built to handle Australia's light, sweet crude oil. However, as the premium paid for light sweet crude rises with rising oil prices, Australian refiners are again at a disadvantage in the Southeast Asian market place as their competitors are equipped to purchase heavier, sour crude oils, which are cheaper. These disadvantages, combined with a general oversupply of refining capacity in Asia and the extra cost of transporting crude oil to and from Australia put Australian refiners at a significant disadvantage.

NATURAL GAS
Australia's natural gas reserves are among the largest in the Asia Pacific region. Proved reserves were estimated at 90 trillion cubic feet (Tcf) as of January 1, 2002, slightly more than double 2001's estimated reserves. Natural gas, however, plays a relatively small role in the country's fuel mix. It is estimated that natural gas will account for 24% of the country's total energy consumption by 2019-2020 and will grow almost twice as fast as other energy sources. In 2000, production of natural gas totaled 1.12 Tcf and consumption totaled 755 billion cubic feet (Bcf). Considering Australia's sizeable natural gas reserves and the relative decline of oil reserves, the Australian government has put an emphasis on natural gas for both domestic consumption and export. In December 2001, the government created the "Gas-to-Liquids Taskforce"charged with increasing the role of natural gas in Australia's economy.

Australia's largest natural gas reserves are in the "Northwest shelf,"a collection of fields located in Western Australia 143 miles offshore, and estimated to contain over 30 Tcf of natural gas. Commercialization of the Northwest shelf has long been a dream of the Australian government, but its remote location and deep waters have both impeded production. The Gorgon field, located in the Northwest shelf, is the country's largest single natural gas field, with certified reserves of 9.6 Tcf and estimates as high as 15 Tcf. The field is owned by partially by Chevron (2/7), Texaco (2/7) Shell (2/7) and Exxon (1/7). A consortium of companies with interests in the region have assembled the "Northwest Shelf Consortium,"and are currently competing to supply China's soon to be constructed Guangdong LNG import terminal. The Consortium has been short-listed for the project, which entails providing 3 million metric tons of LNG annually beginning in 2005. The South African firm Sasol is also negotiating a large purchase from Gorgon. These new sizeable markets have made possible the development of the high-risk isolated field.

The region's downstream component, the Northwest shelf liquefied natural gas (LNG) plant, may soon be expanded from a 3-train facility to potentially a 4- or 5-train facility as demand for natural gas grows both at home and abroad. In 2001, the plant produced 7.5 million metric tons of LNG. Most of the plant's LNG sales go to Japanese utilities, which have shown increasing demand for Australian LNG products. In May, 2002, Kyushu Electric Power (Japan) agreed to purchase 500,000 metric tons of LNG per year beginning in 2006.

There also have been new natural gas discoveries of the Southern coast of Victoria in the Otway basin. It has been speculated that the Otway basin could hold up to 1.5 Tcf of natural gas. The basin's proximity to major cities Melbourne and Adelaide have sparked the interest of domestic oil companies Woodside and Santos. Two discoveries, Thylacine and Geographe, are estimated to hold up to 2 Tcf, which could be marketed in Australia's Southern states by 2005. Tokyo Gas Company and Mitsubishi have purchased a 40% stake in the Otway basin's Patricia-Baleen gas field from Australian OMV. The group plans to invest $52 million in transportation infrastructure in order to market the gas in Victoria beginning in September 2002.

Australia's natural gas industry also saw its largest emissions trade in December 2001, as the Yellowbank facility in Western Queensland used advanced flaring technology to abate 700,000 metric tons of greenhouse gases. The new technology eliminates the venting of waste methane, a highly polluting greenhouse gas. The plant's owners, Oil Company of Australia and Santos (Australia), were granted emissions reduction credits through the Commonwealth Bank of Australia equal to the amount of foregone waste methane. The Yellowbank facility went on to sell the emissions credits to BP Australia.

Pipelines
Many Australian and international investors have called for a serious overhaul of the country's natural gas pipeline network and its regulatory regime. The existing network was built to carry gas from the country's centrally located fields to urban hubs like Sydney and Melbourne. But with centrally located fields such as the Bass Strait in decline, and offshore projects like the Northwest Shelf, Otway Basin ,and Timor Gap on the horizon, Australia will need massive investment in the country's pipeline infrastructure in order to bring new hydrocarbon energy into the grid.

Some new pipeline projects are under way, but a contentious regulatory environment slows development. New projects include the Sea Gas Pipeline, a $300-million, 423-mile line that will take gas from the Otway Basin off Victoria to the Quarintine power station in Adelaide. The Sea Gas Pipeline is operated by Origin and Australian National Power and is scheduled for completion by 2003. Also, a line that crosses the Gulf of Papua, between Papua New Guinea and Australia is in its early stages of construction. In March 2002, a base load for the pipeline was established as Australian Gas Light signed a conditional agreement with ExxonMobil (operators in the Papua New Guinea fields) to buy up to 43 billion cubic feet annually for up to 20 years.

Controversy between pipeline companies and national regulators continues to impede development. While some companies have taken to building pipelines without excess capacity in order to avoid regulation, other have simply cancelled their plans and backed out of the market. Australian Pipeline Trust, Australia's largest pipeline owner, has halted all construction, including its planned $80-million Dubbo-Tamworth pipeline for fear of the regulators. American firm El Paso has also deferred its planned investments until the regulatory environment settles. There are currently numerous cases pending before the Australian Supreme Court concerning pipeline regulation
East Timor
Australia claims oil and natural gas reserves in the Timor Gap, located between Australia and the newly independent state of East Timor. In 1999, the people of East Timor voted in favor of independence from Indonesia. Since this vote, the treaties and contracts that previously governed the Timor Gap's resources have been under re-negotiation. The Timor Gap holds sizeable natural gas reserves and some oil condensate.

There are two main fields in the Timor Gap, the Bayu Undan and the Greater Sunrise Field. The Bayu Undan is situated in 263-feet deep water, 311 miles from the coastal city of Darwin, and could possess as much as 400 million barrels of condensate and 2.4 Tcf of natural gas. In July 2001, negotiators for East Timor, Australia, and Phillips Petroleum (operators in Bayu Undan) agreed that 90% of the royalties earned from Bayu Undan will go to East Timor. This agreement is expected to be codified by an international treaty between East Timor and Australia to be ratified shortly after official East Timorese independence on May 20, 2002. In March of 2002, Phillips made arrangements to sell 3 million tons of LNG annually to Tokyo Electric Power Company and Tokyo Gas company for 17 years beginning in 2006.

The Greater Sunrise field, while possessing significantly larger reserves, has been stalled by infighting amongst the littoral states and investors. The field, which contains up to 9.3 Tcf of natural gas is owned by Woodside (Australia) (33.4%), Phillips (30%), Shell (26.6%), and Osaka gas (10%). About 80% of the field is located on Australian territory, while 20% of it is on Australia-East Timor jointly administered territory. Accordingly, Canberra is demanding 82% of the royalties from the Greater Sunrise field. The final arrangements are yet to be announced. Another debate impeding development over the fields is amongst the investors. Shell wants to employ its newly developed Floating Natural Gas Platform (FLNG) in the Sunrise field, making it the first ever employment of such technology. According to Shell, the $5 billion FLNG terminal could cut costs by 40%. Woodside and Osaka have shown support for Shell's initiative, but Phillips and the government of Australia have expressed strong reservations. The FLNG is designed to export LNG to Japan, China, and North America. The government of Northern Territory has stated that the Greater Sunrise development will leave "no chance for industrial development in Darwin, and no gas for the rest of Australia."
The Timor Sea also contains natural gas in the Evans Shoal, Petrel, and Tern gas fields. Combined, these fields are estimated to contain 4 Tcf of natural gas and are currently operated by the Australian oil major Santos.

LNG
Australia is a growing LNG producer and exporter. It is now the third-largest LNG exporter in the Asia-Pacific region, behind Indonesia and Malaysia. Australia's major LNG project, the NWSP, has created an estimated US$10 billion in business for Australian suppliers since 1980, and produced an extra 80,000 jobs each year of its existence. In October 2000, the government and the Australian Petroleum Production and Exploration Association launched a new policy framework to ensure that Australia remains a competitive and reliable LNG supplier. The agenda commits the government to environmental policies that will not in principle harm the LNG industry and announces a new bylaw for LNG projects with an initial capital expenditure of at least US$50 million to obtain duty-free importation of capital equipment unavailable in Australia and integral to the project.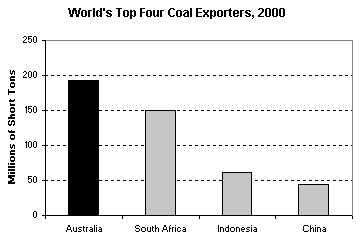 COAL
Australia is the world's fourth largest producer of coal. In 2000, Australia produced a total of 337.2 million short tons (Mmst) of coal and consumed 144.2 Mmst, resulting in 193 Mmst of coal exported, or 57% of the country's total production. Since 1986, Australia has been the world's largest coal exporter.

Australia's coal deposits are concentrated along the country's western seaboard in the states of Queensland, New South Wales, and Victoria. The Southern state of Victoria and produces mainly thermal coal, or brown coal, which is of lower quality and used primarily for the domestic generation of electricity. New South Wales production comes from Permian black coal, a bituminous type. Some of this coal is used as steaming coal, some is coking coal. Queensland, to the North, contains large deposits of high quality black coal, or coking coal, used in steel production. Most of the country's black coal is exported to neighboring Asian countries. Black coal exports in 2001 totaled approximately 85 Mmst, 77 Mmst of which came from Queensland.

The country's coal industry is dominated by four companies: BHP Billiton, Anglo American (UK), Rio Tinto (Australian-UK), and Xstrata (Switzerland). Xstrata is a new operator in Australia, after purchasing its Australian in assets in 2001 from Swiss mining company Glencore. Australian coal exporters saw record earnings in 2001, benefited by both strong global black coal demand and a weak Australian dollar. In November, 2001, however, Chinese coal suppliers began flooding the market, taking advantage of the record high coking coal prices. Chinese production has since tapered off, but still stands as potential formidable competition for the Australian export industry.

The coal majors have used their strong market position and high world coal prices in recent negotiations with buyers. Japan-Australia price negotiations remain deadlocked in May 2002, and well past their April deadline. Australian suppliers are pushing for higher prices from their Japanese customers, mainly steel manufacturers and utilities. The Japanese, conversely, are suffering from a recession and are seeking lower prices. Last year's price contracts have been rolled over in the interim, but will be nullified come September. Japan accounted for 46% of Australia's black coal exports in 2000.

Other markets for Australia's coal are non-Japan Asia (30%) and Europe (16%). Liberalization of European energy markets has presented attractive opportunities to Australian suppliers. Coal exports to Germany have grown from 292,000 short tons in 1995 to 2.9 million short tons in 2001. Coal is currently Australia's biggest export to the EU.

The Australian Bureau of Agricultural and Resource Economics (ABARE) expects Australia's export coal industry to grow quickly in the short term. ABARE predicts that Australian coal exports will reach 254 Mmst in 2010, 44 Mmst above present levels. Major projects on the horizon include the Hail Creek Coal Project, located in central Queensland, which is a joint venture between Pacific Coal, Marubeni, and Sumitomo. The mine, which will be built and managed by Pacific, will be open cut, and is expected to produce 5.5 Mmst annually by 2003. In 2002, the Chinese coastal city of Zhangjiagang, became a first-time importer of Australian coal, purchasing approximately 44,000 short tons. Also, the April 2002 merger of Anglo-American's subsidiary Anglo-coal Australia with Mitsui coal holdings could also have a significant impact on the industry. The firms have indicated their intention to spend $124 million to join their assets surrounding the Moura mine, located in Queensland's Bowen Basin, to produce a super pit with the potential to produce13 Mmst per year. Finally, AuIron Energy's South Australian Steel and Energy (SASE) project entails the construction of 2.7 Mmst ton per year pig iron plant that will use its own Australian coal and iron ore deposits with the hopes of becoming the world's lowest cost producer of pig iron.

ELECTRIC POWER
As of January 2000, Australia had an electrical generation capacity of 43 million kilowatts (or gigawatts). Approximately 84% of this capacity was thermal (mostly coal) and 14% of it was from renewables (mostly hydro). In 2000, Australia generated 202.7 billion kilowatthours (BkWh) of electricity and consumed 188.5 BkWh. ABARE expects electricity usage to grow by 2.8% per year over the course of this decade.

Sector Organization
In 1996, major reforms were instituted for Australia's electricity industry. Prior to 1996, electric utilities were owned by states, but under reforms many state-owned utilities are being split up and privatized. Victoria and South Australia have already sold and long-term leased (respectively) all of their state-owned electricity utilities. Key to this reform was the creation of the National Electricity Market (NEM). The NEM is a wholesale "pool" operated by the National Electricity Market Management Company (NEMMCO) to which all generators above a certain size are obliged to sell their output at prices determined by the last and highest bid for distribution through regulated transmission networks. NEMMCO is a self-funding company owned by the participant states and the federal government.

Australia has five trading regions, all of which are interconnected, but the NEM does not include the non-connected states of Tasmania, Western Australia, or the Northern Territories. Tasmania is expected to join when its electricity link to the mainland is completed in 2003. New South Wales and Victoria have been combined into a two-state regional market, and it is here that reforms have strongly reduced electricity prices due to overcapacity and strong competition, though prices have begun to rise recently as increasing demand uses previously spare capacity. Since January 2002, residents of Victoria have been able to choose their electricity provider amongst a list of private firms. Reforms did not lower prices much in Queensland or South Australia, although prices overall fell about 11% in the period 1996-2000. However, much of the savings went to large industrial/commercial customers that had the option to choose between retailers.

The NEM seems to successful in encouraging new investment, as about 2,300 MW in additional capacity is being constructed or planned. Also important in sparsely populated Australia is the transmission network development. Reforms have created two types of interconnectors to enhance transmission network development. Regulated interconnectors must pass strict tests in terms of contributing to market development to receive guaranteed rates of return. Unregulated interconnectors derive their income from the price difference between two sides of the interconnector. By January 2003, all electricity consumers will be able to choose between electricity retailers, and prices are expected to fall when this is implemented.

ENVIRONMENT
Energy commodities are a major source of export earnings in Australia and development of these resources in a sustainable manner is a primary policy goal of the country. Although coal is a major component of Australia's primary energy mix, increasing urban air pollution levels are more a consequence of automobile usage than coal consumption. In March 2000, Australia released the Review of Fuel Quality Requirements for Australian Transport, a report attempting to address environmental problems associated with automobile usage in areas such as Queensland, Perth and Western Sidney.
In 2000, Australia contributed 1.5% of the world's total energy-related carbon emissions. Partially because of the greenhouse gas emissions associated with agriculture, the Australian Institute, an independent public policy research center, indicated that if statistics included total greenhouse gas emissions, as opposed to only energy-related emissions, then Australia would have the highest per capita carbon emissions in the developed world.
The Australian government realizes the cost-effectiveness of reducing the environmental impacts of the energy sector. Improving end-use efficiency in the various economic sectors remains a key element of Australia's sustainable energy policy, as does the utilization of renewable energy resources.
---
COUNTRY OVERVIEW
Prime Minister:
John Howard (since 3/11/96)
Independence:
January 1, 1901 (from the United Kingdom)
Population:
19,357,594 (July 2001 est.)
Location/Size:
Oceania, continent between the Indian Ocean and the South Pacific Ocean/7,686,850 sq. km (2,971,081 sq. mi), about the size of the contiguous United States
Major Cities:
Sydney, Melbourne, Canberra (capital), Brisbane, Perth, Adelaide
Languages:
English, native languages
Ethnic Groups:
Caucasian (92%), Asian (7%), aboriginal and other (1%)
Religions:
Anglican (26%), Catholic (26%), other Christian (24%), non-Christian (11%)
Defense (8/98):
Army (25,400), Navy (14,300), Air Force (17,700)

ECONOMIC OVERVIEW
Currency: Australian Dollar ($A)
Market Exchange Rate (5/24/02): US $1=$A1.79
Nominal Gross Domestic (GDP, 2001E): U.S.$365.8 billion
Real GDP Growth Rate (2001E): 4.1% (2002F): 3.8%
Inflation Rate (2001E): 4.3% (2002F): 3.0%
Unemployment Rate (2001E): 6.9% (2002F): 7.0%
Current Account Balance (2001E): -$15.3 billion (2002F): -$16.9 billion
Major Trading Partners: Japan, other Far East, European Union, United States
Major Export Products: crude materials, food and live animals, mineral fuels and lubricants
Major Import Products: machinery and transport equipment, manufactured goods, chemicals

ENERGY OVERVIEW
Minister for Industry, Tourism and Resources: Ian E. McFarlane
Proven Oil Reserves (1/1/02E): 3.5 billion barrels
Oil Production (2001E): 632,918 barrels per day (bbl/d)
Oil Consumption (2001E): 872,000 bbl/d
Net Oil Imports (2001E): 239,082 bbl/d
Crude Refining Capacity (1/1/02E): 846,250 bbl/d
Natural Gas Reserves (1/1/02E): 90.6 trillion cubic feet (Tcf)
Natural Gas Production (2000E): 1.12 Tcf
Natural Gas Consumption (2000E): 755 billion cubic feet (Bcf)
Recoverable Coal Reserves (2000E): 90,489 million short tons
Coal Production (2000E): 337.15 million short tons (Mmst)
Coal Consumption (2000E): 144.17 Mmst
Electric Generation Capacity (1/1/00E): 43 million kilowatts (84% Thermal, 14% Hydroelectric)
Electricity Generation (2000E): 202.7 billion kilowatthours
Electricity Consumption (2000E): 188.5 billion kilowatthours

ENVIRONMENTAL OVERVIEW
Minister for the Environment & Heritage: David Kemp
Minister for Forestry & Conservation: Ian McDonald
Total Energy Consumption (2000E): 4.89 quadrillion Btu* (1.2% of world total energy consumption)
Energy-Related Carbon Emissions (2000E): 96.87 million metric tons of carbon (1.5% of world carbon emissions)
Per Capita Energy Consumption (2000E): 255 million Btu (vs U.S. value of 351 million Btu)
Per Capita Carbon Emissions (2000E): 5.1 metric tons of carbon (vs U.S. value of 5.6 metric tons of carbon)
Energy Intensity (2000E): 10,804 Btu/ U.S.$1995 (vs U.S. value of 10,918 Btu/ $1995)**
Carbon Intensity (2000E ): 0.21 metric tons of carbon/thousand U.S.$1995 (vs U.S. value of 0.17 metric tons/thousand $1995)**
Sectoral Share of Energy Consumption (1999E): Transportation (42%) Industrial (37%), Residential (13.5%), Commercial (7.5%)
Sectoral Share of Carbon Emissions (1998E): Industrial (46.4%), Transportation (26.5%), Residential (15.2%), Commercial (11.9%)
Fuel Share of Energy Consumption (2000E): Coal (44.2%), Oil (34.8%), Natural Gas (16.6%)
Fuel Share of Carbon Emissions (1999E): Coal (55.4%), Oil (32.6%), Natural Gas (12.0%)
Renewable Energy Consumption (1998E): 396 trillion Btu* (0.9% increase from 1997)
Number of People per Motor Vehicle (1998): 1.7 (vs U.S. value of 1.3)
Status in Climate Change Negotiations: Annex I country under the United Nations Framework Convention on Climate Change (ratified December 30th, 1992). Signatory to the Kyoto Protocol (April 29th, 1998). Under the Protocol, Australia has agreed to an 8% increase from 1990 emissions levels of a basket of greenhouse gases.
Major Environmental Issues: Soil erosion from overgrazing, industrial development, urbanization, and poor farming practices; soil salinity rising due to the use of poor quality water; desertification; natural habitat of many unique animal and plant species is threatened by clearing for agricultural purposes; the Great Barrier Reef off the northeast coast, the largest coral reef in the world, is threatened by increased shipping and its popularity as a tourist site; limited natural fresh water resources.
Major International Environmental Agreements: A party to the Antarctic-Environmental Protocol, Antarctic Treaty, Biodiversity, Climate Change, Endangered Species, Environmental Modification, Hazardous Wastes, Law of the Sea, Marine Dumping, Marine Life Conservation, Nuclear Test Ban, Ozone Layer Protection, Ship Pollution, Tropical Timber 83, Tropical Timber 94 and Wetlands. Has signed but not ratified, Desertification.
* The total energy consumption statistic includes petroleum, dry natural gas, coal, net hydro, nuclear, geothermal, solar and wind electric power. The renewable energy consumption statistic is based on International Energy Agency (IEA) data and includes hydropower, solar, wind, tide, geothermal, solid biomass and animal products, biomass gas and liquids, industrial and municipal wastes. Sectoral shares of energy consumption and carbon emissions are also based on IEA data.
**GDP based on EIA International Energy Annual 2000

OIL AND GAS INDUSTRIES
Major Oil and Gas Producing Regions: Western Australia; Victoria; South Australia; Queensland; Northern Territory
Major Ports: Sydney; Melbourne; Geelong; Fremantle; Adelaide; Brisbane
Major Oil Fields: Roller, Skate, Bass Strait, Wanea-Cossack, Laminaria, Corallina
Major Gas Fields: Bass Strait, Cooper Basin, North Rankin, Goodwyn, Gorgon
Major Oil Refineries (crude oil capacity): BP Amoco - Bulwer Island (69,825 bbl/d), BP Amoco - Kwinana (158,500 bbl/d), Caltex - Kurnell (114,000 bbl/d), Caltex - Lytton (105,500 bbl/d), Inland Oil Refiners - Eromanga (1,425 bbl/d), ExxonMobil - Adelaide (74,000 bbl/d), ExxonMobil - Altona (130,000 bbl/d), Shell - Clyde (85,000 bbl/d), Shell - Geelong (110,000 bbl/d)

---
If you liked this Country Analysis Brief or any of our many other Country Analysis Briefs, you can be automatically notified via e-mail of updates. You can also join any of our several mailing lists by selecting the listserv to which you would like to be subscribed. The main URL for listserv signup is
http://www.eia.doe.gov/listserv_signup.html
. Please follow the directions given. You will then be notified within an hour of any updates to Country Analysis Briefs in your area of interest.
Return to Country Analysis Briefs home page
Contact: Charles Esser
charles.esser@eia.doe.gov
Phone: (202) 586-6120 Fax: (202) 586-9753