June 2003
Background | Oil | Natural Gas | Coal | Electricity | Profile | Links
Portugal
Portugal's energy imports are expected to increase significantly in coming years, as the country lacks domestic resources for energy production.
Note: The information contained in this report is the best available as of June 2003 and is subject to change.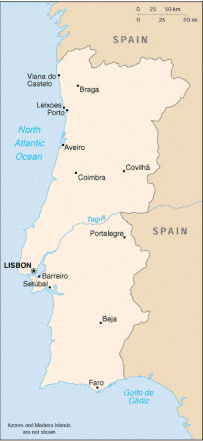 BACKGROUND
Portugal is a member of the European Union (EU) and the common European currency, the euro. Portugal is a relatively poor country economically in comparison to its neighbors, with the lowest nominal per-capita GDP of all EU member states in 2002. However, since joining the EU, the country's economy has expanded, with an average real economic growth rate of 3.7% per year from 1986 to 2000. Funds to invest in the country's infrastructure received from the European Commission have helped contribute to Portugal's successful economic performance.
Before Portugal's newly-elected prime minister, José Manuel Durão Barroso of the center-right Social Democratic Party (PSD), entered office in 2002, Portugal had received a formal reprimand from the European Commission (EC) for the size of the country's budget deficit, which reached 4.1% in 2002, breaching the 3% ceiling allowed by the EU's Stability and Growth Pact. Although the Portuguese government has succeeded in reducing the budget deficit to 2.7% of GDP in 2002, its austere fiscal policy, in conjunction with weaker global growth, has made it difficult for Portugal's economy to recover. Real GDP for 2002 was estimated at 0.5%. The budget deficit issue remains a problem, and Portugal could once again breach the 3% ceiling in 2003. Portugal's unemployment rate also increased to 5% in 2002 from 4.1% at the end of 2001.

Energy
Portugal has extremely limited domestic energy resources, and therefore imports about 90% of its energy needs. Because of Portugal's geographic location, bordering only Spain and the Atlantic Ocean, much of its energy imports are transported through Spain. The Iberian peninsula has an extensive natural gas network that links the two countries with Algeria via Morocco. The two Iberian countries signed an agreement in November 2001 to integrate their electricity markets completely by 2003. Both governments recently decided to extend the completion of the integrated market until 2006.
Energy Sector Restructuring
On April 3, 2003, the Portuguese government approved a plan to restructure the energy sector. The government plans to split the state-controlled oil and gas holding company GalpEnergia into three sectors. Galp's main natural gas business, Gas de Portugal, will merge with Electricidade de Portugal (EDP), the state-owned electricity utility company. Galp's gas transmission subsidiary, Transgas, will be merged with the country's state-owned transmission company, Rede Electrica Nacional (REN), in which a majority stake will be privatized in 2004. Galp will be left with its oil refining and refined products distribution through its subsidiary Petrogal. GalpEnergia is currently controlled by the Portuguese government (34.81%), followed by Italy's Eni (33.4%), EDP (14.27%), savings bank Caixa Geral de Depositos (13.5%), and Spain's Iberdrola (4%). The Portuguese government also plans to bring forward the full liberalization of the country's energy markets from 2008 to July 2004. Some analysts observe the restructuring as an attempt by the government to improve the competitiveness of the Portuguese energy companies ahead of the creation of the Iberian electricity market, Mibe (see below)l, as well as in the European market.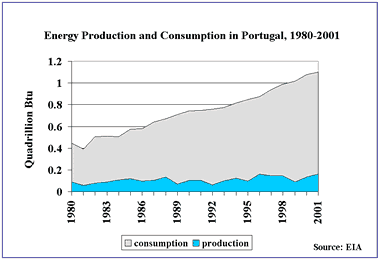 OIL
Portugal holds no proven commercially viable oil reserves. In 2002, the country consumed 351,000 barrels per day (bbl/d), all of which was imported. Oil made up 64% of the total Portuguese primary energy consumption for that year.
Exploration and Production
Despite decades of exploration activity, Portugal has yet to discover a commercially viable oil deposit. In 2002, the Portuguese government offered 14 deep-water-offshore blocks for exploration and production contracts. After the licensing round expired on December 2, 2002, only Repsol-YPF, in partnership with RWE of Germany, made bids for Blocks 13 and 14. Taurus Petroleum of Sweden is currently the only other company which holds an active offshore license.
Refining/Downstream
Portugal has two refineries, located in the coastal cities of Sines and Porto. Petrogal operates the two refineries, which have a combined capacity of 304,174 bbl/d.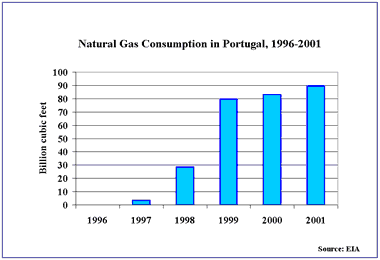 NATURAL GAS
The Portuguese natural gas sector has grown considerably in the last few years, despite lacking any commercially viable reserves. Annual consumption was nearly non-existent prior to 1997 when the country consumed 4 billion cubic feet (Bcf). In 2001, consumption reached 90 Bcf. The increase in natural gas consumption can be attributed to the completion of the Maghreb-Europe pipeline in 1996, which connected the Iberian Peninsula to Algerian natural gas sources. Transgas spent $35 million to create a link, allowing Portugal to import Algerian gas through Spain. Gas de Portugal owns the entire Portuguese section, and part of other sections. Portugal (with EU assistance) is making large investments in its natural gas infrastructure, having spent approximately 485 million euros between 1994 and 1999. Since 1999, the government has curtailed this spending somewhat, but there are still plans to expand the natural gas network from 3,761 miles in 1999 to 5,943 miles in 2010.
Exploration and Production
Mohave Oil and Gas Company and Desire Petroleum PLC made Portugal's first significant natural gas discovery at Alijubarrota. However, in June 2001, Desire Petroleum plugged the Alijubarrota 2 sidetrack natural gas well because, according to the company, the zone had "failed to produce commercial quantities of hydrocarbon gases during underbalanced drilling operations."
Liquefied Natural Gas (LNG)
In 1998, Portugal became an LNG purchaser for the first time. In 1999, the country signed a 20-year contract with Nigerian LNG. Portugal is also building its first LNG terminal in Sines, which will go online in late 2003 as a gas-processing facility. Until that time, LNG will continue to be regasified in Spain and piped into Portugal.
Storage
Transgas, Portugal's natural gas transport company, plans to convert two large salt caverns into storage tanks, with construction beginning this year. The first two salt caverns will have a capacity of 2.1 trillion cubic feet (Tcf). Transgas will convert two additional caverns in 2004, doubling the storage capacity.
COAL
Portugal has not produced coal since its last mine closed in 1994. It does import relatively small amounts of coal for electricity generation, especially in periods of decreased hydropower. Although hydropower increased in 2001, annual coal consumption fell only slightly in 2001 as electricity demand increased overall.

ELECTRICITY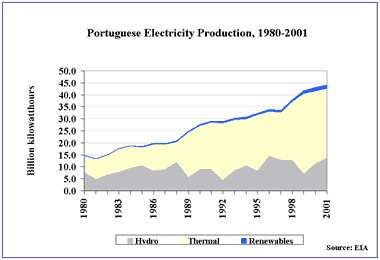 In 2001, Portugal consumed 41.5 billion kilowatthours (Bkwh) and generated 44.3 Bkwh of electricity. Hydropower accounted for about 31.4% of Portugal's total electricity generation in 2001, a substantial increase from 17% in 1999, a year characterized by particularly dry weather. Likewise, Portugal's oil and coal consumption for power generation fell in 2001 to about 64.5% from 79%; thermal power and hydropower tend to exhibit an inverse relationship in Portugal (see graph).
During the 1990s, installed capacity for both hydropower and thermal (coal, oil, and natural gas) grew, 36% and 47% respectively. While installed capacity for fuel oil decreased during the period, natural gas, which did not become a major source for electricity generation until 1998, increased. As of 2000, installed capacity for natural gas represented over 10% of total installed capacity and is expected to increase.
The Portuguese electricity grid is connected with Spain's and consists of 44,127 miles of high/medium voltage transmission lines and 69,640 miles of low voltage transmission lines. Up to 10% of demand could potentially be imported from and/or through Spain (and vice-versa). Despite rapidly increasing energy consumption (6% per year average 1973-1998), Portugal still has the lowest per capita power consumption in the EU, as of 2001. Portugal's electricity market is due to be fully opened to competition by July 2004.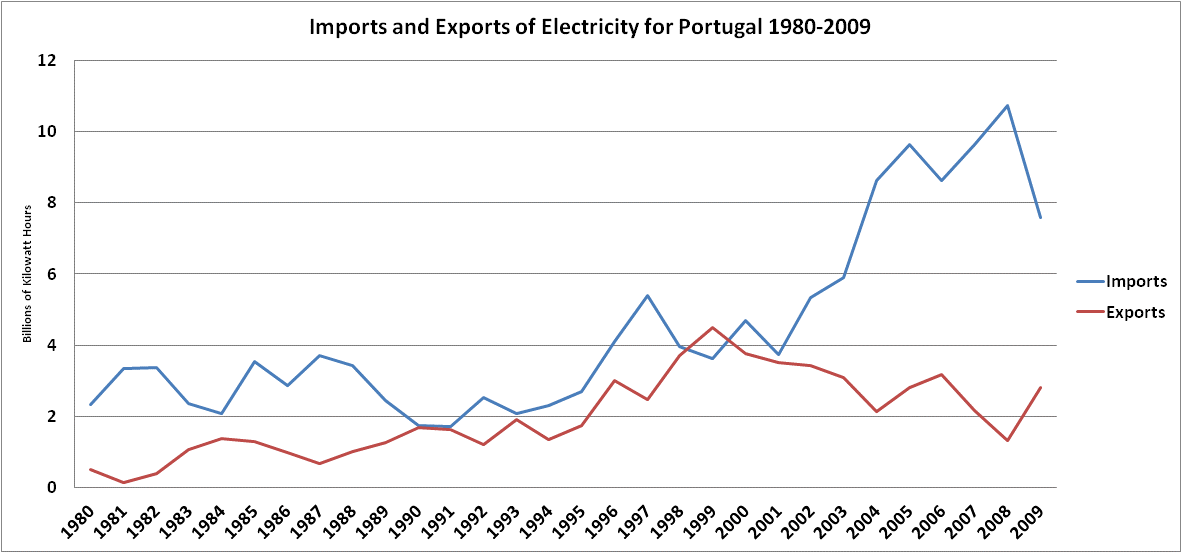 Iberian Integration
In November 2001, Spain and Portugal signed an agreement that calls for complete integration of their electricity markets, creating the Mercado Ibérico de Electricidade (MIBEL). MIBEL was scheduled to be opened in early 2003, but both governments agreed to complete incrementally the market in stages by 2006. The integration of the markets includes creating a single market operator to negotiate the sale of electricity, a merger of logistics networks, and increased interconnection of the countries' grids. In addition, all companies will operate under the same competition guidelines, and tariffs will be harmonized.
Sector Organization
Since 1993, there have been independent power producers in Portugal, and by 1998 they accounted for 28% of the country's power production. There are two electricity systems in Portugal, the Public and the Independent. The Public system is heavily regulated to ensure a guaranteed supply. In the Independent system, competition has been introduced (in line with EU directives), but is an option only for large consumers of electricity. In the Public system, the 70%-state-owned/30%-EDP-owned grid operator REN has exclusive and obligatory contracts with suppliers at a price expected to cover costs. In the Independent system, there are no power purchase agreements; consumers can choose their supplier, though the REN transmission system is still used. Erse is the Portuguese independent electricity regulator. Since January 2002, the government no longer has any power over electricity tariffs. Rather, Erse makes the final decision after receiving a recommendation from a council equally composed of consumer groups and the electricity companies.
Electricidade de Portugal (EDP) is Portugal's largest electricity company. EDP has been progressively privatized in recent years. The Portuguese government still retains a 30% stake in the company, but plans to sell its remaining stake in EDP in 2004.
The signing of the MIBEL in November 2001 spurred a number of deals in the Iberian countries' electricity sectors. In December 2001, EDP acquired a 40% share of the holding company that owns 95% of Spanish utility Hidrocantabrico. EDP, as the senior partner, took control of Hidrocantabrico's operations, giving the Portuguese company a large foothold in the Spanish market. In March 2003, EDP also acquired a 62% stake in Naturcorp, the natural gas distributor in Spain's Basque region. EDP plans to merge Naturcorp with its Gas de Austurias, making EDP one of the largest natural gas companies in Spain.
In October 2002, Spain's largest utility, Endesa and Portugal's industrial holding company Sonae launched a 50:50 joint venture company, Sonae Comercialización de Energía (SODESA). The company aims to achieve a 15% share of the large consumer market.
With rising electricity demand and large-scale hydroelectric power already maximized, Portugal will most likely have to build more thermal plants, increase imports, or rely more on renewable sources of electricity such as wind, solar, co-generation, and mini-hydroelectric plants. The Portuguese government aims to increase electricity generation from renewable sources by 40% during the period 2002-2010. Portugal produced 1.8 Bkwh from renewable sources (excluding hydro) in 2001.
Nuclear Power
Portugal has no nuclear power plants. While there has been some interest and discussion regarding the construction of a nuclear plant, there has been no action toward this end.
---
COUNTRY OVERVIEW
Head of State: President Jorge Sampaio (since 1996; re-elected in 2001)
Prime Minister: José Manuel Durão Barroso (elected March 2002)
Independence: 1143; from Spain 1640 (republic proclaimed October 5, 1910)
Capital City: Lisbon
Population (2002E): 10 million
Location/Size: Southwestern Europe, bordering the North Atlantic Ocean, west of Spain/92,391 sq km (slightly smaller than Indiana)
Language: Portuguese
Religion: Roman Catholic 97%, Protestant denominations 1%, other 2%

ECONOMIC OVERVIEW
Finance Minister: Maria Manuela Dias Ferreira Leite
Currency: Euro
Exchange Rate (June 2, 2003): 1 US Dollar = 0.854 Euros
Gross Domestic Product (GDP, nominal, 2002E): $121.3 billion
Real GDP Growth Rate (2002E): 0.5% (2003F): 0.4%
Inflation Rate (consumer prices, 2002E): 3.6% (2003F): 2.9%
Unemployment Rate (2002E): 5.0%
Merchandise Exports (2002E): $25.6 billion
Merchandise Imports (2002E): $38.4 billion
Major Trading Partners: Germany, Spain, France, United Kingdom
Major Export Products: textiles, footwear, leather goods, machinery and transport equipment, wood and cork, agricultural goods and foodstuffs
Major Import Products: Machinery and appliances, agricultural products and byproducts, chemical and plastic products, land transport equipment, mineral products
ENERGY OVERVIEW
Minister of the Economy: Carlos Manuel Tavares da Silva
Proven Oil Reserves: None
Crude Oil Production (2002E): None
Oil Consumption (2002E): 351,000 (bbl/d)
Crude Oil Refining Capacity (1/1/03E): 304,172 bbl/d
Natural Gas Reserves: None
Natural Gas Consumption (2001E): 90 billion cubic feet
Coal Reserves (2001E): 40 million short tons (Mmst)(no longer mined)
Coal Consumption (2001E): 6.7 Mmst
Coal Production (2001): None since 1994
Electric Generation Capacity (2001E): 10.3 gigawatts
Electricity Generation (2001E): 44.3 billion kilowatthours (thermal 64.5%; hydro 31.4%; biomass, geothermal, solar, and wind 4.1%)
Electricity Consumption (2001E): 41.5 billion kilowatthours

ENVIRONMENTAL OVERVIEW
Minister for Cities, Environment and Planning: Amilcar Teias
Total Energy Consumption (2001E): 1.1 quadrillion Btu* (0.3% of world total energy consumption)
Energy-Related Carbon Emissions (2001E): 16.25 million metric tons of carbon (0.3% of world total carbon emissions)
Per Capita Energy Consumption (2001E): 108.6 million Btu (vs. U.S. value of 341.8 million Btu)
Per Capita Carbon Emissions (2001E): 1.62 metric tons of carbon (vs. U.S. value of 5.5 metric tons of carbon)
Energy Intensity (2001E): 8,251 Btu/$1995** (vs U.S. value of 10,736 Btu/$1995)
Carbon Intensity (2001E): 0.12 metric tons of carbon/thousand $1995** (vs. U.S. value of 0.17 metric tons/thousand $1995)
Fuel Share of Energy Consumption (2001E): Oil (64%), Coal (11%), Natural Gas (9%) Hydro (13%) Other renewable (3%)
Fuel Share of Carbon Emissions (2001E): Oil (73%), Coal (18%), Natural Gas (9%)
Status in Climate Change Negotiations: Annex I country under the United Nations Framework Convention on Climate Change (ratified December 21st, 1993). Signatory to the Kyoto Protocol (signed April 29th, 1998 and ratified May 31, 2002).
Major Environmental Issues: Soil erosion; air pollution caused by industrial and vehicle emissions and water pollution (especially in coastal areas).
Major International Environmental Agreements: A party to Conventions on Air Pollution, Biodiversity, Climate Change, Desertification, Endangered Species, Hazardous Wastes, Law of the Sea, Marine Dumping, Marine Life Conservation, Ozone Layer Protection, Ship Pollution, Tropical Timber 83 and Wetlands. Has signed, but not ratified: Air Pollution-Persistent Organic Pollutants, Air Pollution-Volatile Organic Compounds, Climate Change-Kyoto Protocol, Environmental Modification, Nuclear Test Ban, Tropical Timber 94.
* The total energy consumption statistic includes petroleum, dry natural gas, coal, net hydro, nuclear, geothermal, solar, wind, wood and waste electric power. The renewable energy consumption statistic is based on International Energy Agency (IEA) data and includes hydropower, solar, wind, tide, geothermal, solid biomass and animal products, biomass gas and liquids, industrial and municipal wastes. Sectoral shares of energy consumption and carbon emissions are also based on IEA data.
**GDP based on EIA International Energy Annual 2001
---
Sources for this report include: BBC Worldwide Monitoring; CIA World Factbook; Diario de Noticias; Global Insight; Economist; Economist Intelligence Unit; Electricidade de Portugal; Europe Information Service; European Union; Financial Times; International Energy Agency; Petroleum Economist; Petrogal; U.S. Energy Information Administration.
---
For more information from EIA on Portugal, please see:
Portugal Country Data
Links to other U.S. Government Sites:
CIA World Factbook - Portugal
U.S. State Department Consular Information Sheet - Portugal
U.S. State Department Country Commercial Guide - Portugal
U.S. State Department Background Notes - Portugal
U.S. Embassy in Portugal
The following links are provided solely as a service to our customers and should not be construed as advocating or reflecting any position of the Energy Information Administration (EIA) or the United States Government. EIA does not guarantee the content or accuracy of any information in linked sites.
Galp
Electricidade de Portugal
European Commission Directorate General XVII (Energy)
Geological and Mining Institute of Portugal
Regulatory Entity of the Electric Sector - ERSE
---
If you liked this Country Analysis Brief or any of our many other Country Analysis Briefs, you can be automatically notified via e-mail of updates. You can also join any of our several mailing lists by selecting the listserv to which you would like to be subscribed. The main URL for listserv signup is http://www.eia.doe.gov/listserv_signup.html. Please follow the directions given. You will then be notified within an hour of any updates to Country Analysis Briefs in your area of interest.

Return to Country Analysis Briefs home page

File last modified: June 2, 2003

Contact:
Charles Esser
Phone: (202) 586-6120
Fax: (202) 586-9753