Spain

Spain is one of the fastest growing European economies but has very limited domestic energy resources. As a result, Spain is expected to become an increasingly important energy importer.
Note: The information contained in this report is the best available as of March 2003 and is subject to change.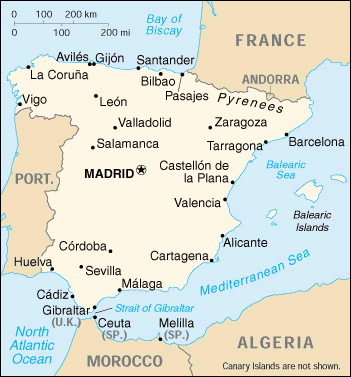 BACKGROUND
Spain has been a member of the European Union (EU) since 1986. Over the last decade, Spain has enjoyed rapid economic expansion. Economic growth has slowed over the past few years, but at a forecast real growth rate of 1.9% in 2002 (the lowest since 1993), Spain will remain one of the fastest growing of the large EU economies. Spain's unemployment rate has decreased significantly, from 19.8% in 1994 to 11% as of the third quarter, 2002. The government budget returned to a deficit in 2002 and the deficit is expected to increase in 2003. Inflation is expected at 2.8% in 2002, roughly the same as in 2001.
In March 2000, Prime Minister Jose Maria Aznar's center-right Popular Party (PP) was reelected with an absolute majority, obtaining control in both houses of parliament. Aznar has continued his liberalization of Spanish industry. In June 2000, the government passed legislation aimed at eliminating monopolies (state-held or private) in the energy, telecommunications, and services industries. Oil, natural gas, and electricity markets are key targets in Aznar's liberalization program. The Popular Party, which has been in control since 1996, will face elections in the spring of 2004. PP will have to find a new party chief, as Prime Minister Aznar is schedule to step down in 2003.
Continued economic instability in Argentina has adversely affected Spanish companies, which invested 45 billion euros there over the last decade. Five large Spanish companies, including oil company Repsol-YPF and power company Endesa, that alone account for about three-quarters of the trading volume on the Madrid stock exchange, have lost billions of euros because of the default on Argentine government debt and the devaluation of the Argentine peso. Recently, Argentina's economic situation has slightly improved , allowing Repsol-YPF to make up for some of its losses in 2002.
Economic growth and accelerated industrialization associated with EU membership have led to increased Spanish energy demand, up 75% since the mid-1970s. Electricity demand is growing at a particularly rapid rate of 6% per year, necessitating greater investment in this section. Spain is highly dependent on imported oil and natural gas, leaving the country economically vulnerable to world oil price fluctuations. Increased natural gas imports are expected to meet a large share of future energy demand. Spain currently imports 60% of its natural gas from Algeria. With an extensive gas network now in place, Spain's demand for natural gas is expected to increase by 45% by 2010, according to International Energy Agency's forecasts. In order to meet these demands, the Spanish Cabinet approved a 10-year energy plan in September 2002, which focuses on meeting the countries future energy requirements. The plan reflects an increased reliance on natural gas but also revamps the country's basis energy infrastructure, as well as encourages investment in electricity and natural gas distribution networks. According to the plan, natural gas and renewables, which are to account for 33.1% and 28.4% respectively, will be favored, while nuclear, coal and oil would represent smaller percentages. The plan still requires approval from the parliament.
Spain continues to privatize its energy sector, a process which it began in 1994 with the LOSEN Electricity Act. The Electricity Act 54 in 1997 and the Hydrocarbons Act 34 in 1998 accelerated and bolstered the process. The Hydrocarbons Act created the Comisión Nacional de Energía (National Energy Regulatory Commission). The commission is a regulatory body, which is tasked with ensuring the existence of competition in Spain's electricity market and liquid and gaseous hydrocarbons market. These programs place Spain in compliance with EU Directives 96/92/EC and 98/30/EC, which require EU members to privatize their electricity and natural gas markets.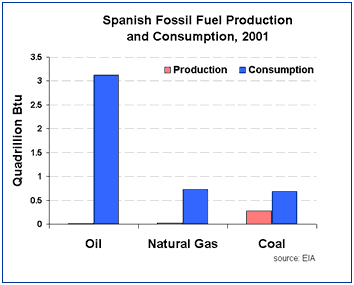 OIL
Oil plays a major role in the Spanish energy sector, although its share of primary energy is decreasing. In 2001, oil accounted for roughly 52% of Spain's primary energy consumption, down from 73% in 1973. Nonetheless, oil consumption has increased. In 2002, Spain consumed about 1.5 million barrels per day (bbl/d) of oil, an increase of 50% since 1990. Spain imports nearly 99% of its crude oil, mainly from Nigeria, Mexico, Libya and Saudi Arabia.
Furthermore, Spain has limited proven domestic oil reserves, 157 million barrels as of January 2003. Its production is therefore marginal. In 1990, Spain was producing 27,000 bbl/d and in 2002, averaged an estimated 6,600 bbl/d, a decrease of over 76%. Spain has five major oil fields: Lora; Casablanca-Montanazo; Rodabello; Chipirón; and Angula-Casablanca. Chipirón produced the most oil in 2002 with 2,978 bbl/d. With limited domestic reserves, the Spanish government has considered other regions and in late 2002, gave Repsol-YPF permission to explore for oil deposits near the Canary Islands.
Until 1993, the Spanish oil industry was state controlled. Today, formerly state held (now private) Repsol still dominates the Spanish oil sector . Repsol acquired the top Argentine oil company, YPF, in 1999, changing the company name to Repsol-YPF. The merged company is responsible for over 50% of Spain's oil production. Worldwide, the company has reserves of 5.6 billion barrels of oil equivalent and and a daily production of about 1 million barrels of oil equivalent per day. The company owns the majority of Spain's refineries, its distribution network (through Compania Logistica de Hidrocarburos, CLH, in which it holds a majority stake), and its gasoline stations (through its trademarks Repsol, Campsa, and Petronor). Divestments in the wake of the merger are working to lessen Repsol-YPF's control in the industry. Economic liberalization plans, which begun in June 2000, also work toward this end; the company reduced its shares in CLH from 62% to 26.45%. Repsol-YPF's profits have been lower for both 2001 and 2002 than the record $2.10-billion profit achieved in 2000 because of exposure to the Argentine economic situation. Repsol-YPF derives 45% of its operating income from Argentina's oil and natural gas fields.
Compania Espanola de Petroleos (Cepsa), established in 1929, is Spain's oldest private oil and gas company. The company has exploration and production activities in Colombia and Algeria and is aiming to expand its operations in Yemen and Iran. It is the second largest oil group in Spain, with a 25% retail market share. BP Oil is also active in Spain. Repsol, Cepsa, and BP Oil account for almost all of the activity in the Spanish oil sector.
Refining
Spain has nine major refineries. Four are owned by Repsol-YPF, and another is owned by a Repsol-YPF subsidiary, Petronor, in which Repsol-YPF has an 86% stake. Petronor is also the largest oil refinery in Spain. Cepsa owns three, and one is owned by BP. Because of state regulation of the industry, Spain has avoided developing the excess refining capacity that characterizes some other countries in southern Europe. Spain's total crude oil refining capacity stands at 1.3 million bbl/d.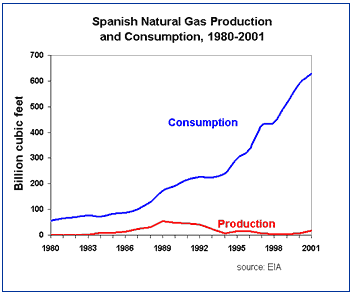 NATURAL GAS
Natural gas is expected to account for a much larger share of Spain's total energy consumption in coming years, especially as new pipelines and natural gas-fired power plants come on line. Within the European Union, Spain is regarded as having the fastest growing natural gas market. Natural gas consumption has grown from 2% of total energy consumption in the 1970s to 12.8% in 2001. Preliminary estimate of consumption for 2001 is about 627 billion cubic feet (Bcf). Some estimates predict natural gas consumption growing at a 10% annual rate in this decade. Spain's National Energy Regulatory Commission predicts demand for natural gas rising to 1.2 Tcf by 2005. Almost all of this consumption will be satisfied with imports, as Spain has extremely limited natural gas reserves (94 billion cubic feet). The country's largest natural gas field went out of production in 1995, and only two smaller fields remain in production, Valle de Guadalquivir and Poseidón, with the latter producing 17.8 Bcf in 2002.

The Gas Natural Group (GN) is the leading natural gas conglomerate in Spain. However, in the market for industrial customers, which was partially opened in 2000, GN's market share has been decreasing as other companies vie for customers. GN comprises: Gas Natural SDG, the main natural gas distributor in Spain; Gas Natural Aprovisionamientos (supplies); Gas Natural Comercializadora (commercialization); Gas Natural Servicios, the services company of the Group; Gas Natural Overseas Trading Company; 14 natural gas distribution companies in Spain; and Gas Natural Internacional, which brings together in a single business unit the interests of GN in Gas Natural BAN (Argentina), Gas Natural ESP (Colombia), Companhia Distribuidora de Gas do Rio de Janeiro-CEG, CEG RIO and Gas Natural SPS (Brazil), in addition to Gas Natural México. Also, GN has minority holdings in three natural gas distribution companies in the region of Aragon and in the Basque Country. Last year, GN spun off 65% of Enagás, a gas distribution company, in order to comply with privatization legislation. Previously, GN controlled 100% of the company until the Spanish government requested that it reduce its share to 35%.
According to liberalization legislation passed in June 2000, no single operator may command over 70% of the Spanish natural gas market by 2004. Since June 2000, large industrial consumers have been able to choose suppliers, and as of January 1, 2003, all consumers are able to choose their suppliers. Several additional regulatory measures were taken in 2001. In July, Spain's Economy Ministry published the terms under which GN must auction off one-third of its 580 Bcf per year Algerian pipeline natural gas imports. In September, Spain's Economy Ministry detailed new natural gas sector regulations that include a revised system for calculating pipeline tariffs and procedures for accessing the national grid. Finally, in October, the government ended GN's monopoly of natural gas imports when a contract for Algerian gas imports equivalent to about 25% of Spain's total annual consumption was awarded to Spain's four largest electricity companies (Endesa, Iberdrola, Union Fenosa, and Hidrocantabrico), BP, and Royal Dutch/Shell. This is part of a strategy being pursued by Spanish electricity companies to enter into the natural gas market. As Algeria supplies about 75% of Spain's imports, these companies now control about 19% of the market. These companies have until 2004 to sell the natural gas to their industrial clients.
The expected growth of natural gas consumption and the continued liberalization of the market have attracted outside and domestic companies to invest in the market. Eni, an Italian oil and gas company, purchased last year 50% of Union Fenosa Gas, the gas unit of Spain's electricity company Union Fenosa. Domestically, Endesa plans to increase its share of the natural gas market by integrating its gas and electricity distribution subsidiaries into a new company called Endesa Red. In November 2002, Cepsa signed an agreement with Sonatrach, the Algerian state oil company, to import 35.3 billion cubic feet of natural gas per year, which will be transported via the Medgaz pipeline (please see description below).
Enagás transports natural gas imports to the Iberian Peninsula via gas pipelines connected to international networks (or via methane carriers for liquefied natural gas, discussed below). There are two international gas pipelines in Spain: Lacq-Calahorra in the north and the Pedro Duran Farell pipeline (formerly the Mahgreb-Europe line) in the south. The Lacq-Calahorra gas pipeline is the main Spanish connection to the European network, linking to Norway's North Sea gas sources. The Pedro Duran Farell pipeline, which crosses through Algeria and Morocco and travels under the Strait of Gibraltar, is about 870 miles (1,400 kilometers) long and connects the Algerian deposits with the Spanish gas pipeline network in Córdoba. This pipeline made its first Spanish delivery in 1996. Work is underway to expand the Pedro Duran Farell pipeline's annual capacity from 282.5 Bcf to 388.5 Bcf by adding a compressor station. Completion is expected in late 2003.
There are two new projects underway as well. Spain will have an additional connection with France via Irun in the Basque Country as a new trans-frontier connector is being built with completion expected by the end of 2003. A further extension of the pipeline network coming to and from Irun, France is planned to be ready between 2005 and 2008. It will have 111 miles in Spain and 93 miles in France, and possess an annual capacity of 144.8 Bcf. In July 2001, Cepsa and Sonatrach signed an agreement for the construction of the new Medgaz undersea natural gas pipeline between Algeria and Almeria, Spain. A feasibility study was completed in late 2002, giving the green light for construction. The pipeline would have a length of 137 miles and have a capacity 564.8 Bcf per year. Natural gas would be allotted in proportion to each shareholder's equity ownership. At present, Sonatrach and Cepsa each hold 20%, while BP, Endesa, Eni, Gaz de France, and TotalFinaElf each hold 12%. TotalFinaElf and GdF are expected to take their gas into France, and ENI its share on to Italy.
Liquefied Natural Gas
Spain is Europe's second-largest liquefied natural gas (LNG) importer, behind France. Enagás operates Spain's three regasification terminals which are located in Barcelona, Cartagena, and Huelva. Algeria is Spain's largest LNG supplier. Spain also imports LNG from the United Arab Emirates and Qatar, as well as, more recently, from Trinidad and Tobago, Nigeria and Oman. In November 2002, Union Fenosa finalized a contract with Oman LNG to buy 63.5 Bcf, which Oman will deliver during 2004-2005. Union Fenosa also signed a long-term agreement with Oman to purchase 50% of the output from its third LNG train for 20 years.
Over the last years, a number of companies have been increasing their capacity to export LNG to Spain. Enagás plans to invest in new infrastructure in order to handle increased LNG imports for rising domestic consumption. It aims to expand the capacity of its three regasification terminals from 734 Bcf per year to 1.2 Tcf per year by 2005. Union Fenosa signed a contract with the Egyptian General Petroleum Corporation in July 2000 to purchase LNG from a new liquefaction terminal under construction at Damietta, Egypt. The terminal is expected to come on stream in 2005 with a capacity of 243.5 Bcf per year. Endesa, Union Fenosa and Iberdrola are constructing a new receiving gasification terminal at the Sagunto port in Valencia. The plant, to be completed in winter 2004, will be able to process 194 Bcf per year and will be linked to new combined cycle gas turbine plants being constructed by Fenosa nearby and Iberdrola in Castellon. Some of the natural gas will also transit to other locations.
The Bahia de Bizkaia Gas group, a consortium led by BP and including Repsol-YPF, Iberdrola, and EVE (the Basque Energy Authority) is building a new import facility in conjunction with a new power station in Bilbao, Spain. The regasification facility is expected to begin operations in 2003.
In 2002, Endesa, Union Fenosa, the Tojeiro Group and Algeria's Sonatrach, forming the Reganosa group, began building the El Ferrol LNG import facility. Algerian LNG will supply the new terminal, located in Galicia in northwest Spain, for ten years following the terminal's projected 2004 commissioning. In conjunction with the terminal, which will have an initial capacity ranging from 88 to 123.5 Bcf per year, a new pipeline will be constructed to connect the terminal to power plants located about 60 miles away.
COAL
Coal is Spain's most plentiful indigenous energy source. Production has fallen in recent years, and the decline is expected to continue as Spain works to meet environmental standards. Currently, 95% of coal is used to generate electricity, and 42.3% of Spain's electricity was generated from coal, according to Spain's National Energy Regulatory Commission. All of the major coal companies are state-owned.
Spanish coal is too expensive to be competitive in a free energy market, with about 80% of the coal costing at least twice international prices to produce, so the Spanish government subsidizes coal production. According to new EU regulations that took effect in July 2002, Spain must lower its coal production by 65% over the next ten years. Also, coal mines that do not improve their economic viability will only be able to receive production subsidies until 2008. Spain is one of three EU countries that will be permitted to continue coal production for reasons of economic security, and hence will continue to receive subsidies for more competitive mines. There is increased pressure on coal, however, as the electricity market privatizes, and as electricity generation will no longer be a captive market for domestic coal. Imports of foreign coal already are on the rise, and electricity generators are looking more to natural gas.
The coal sector now employs only half the number of people it did a decade ago. Most of those employed are in the Asturias region, where the jobs are badly needed. It would be difficult to completely phase out coal mining because of this region's dependence on the industry for employment.
ELECTRICITY
Spain has the fifth largest electricity market in Europe (behind Germany, France, the United Kingdom, and Italy), and it is growing quickly. Electricity demand for 2001 was estimated to be 210.4 billion kilowatthours (bkwh), a 5% increase over 2000. It is estimated that Spain's electricity demand will increase 30% by 2010.
To meet Spain's increased demand for electricity, domestic utility companies have invested in generation capacity and distribution. Red Electrica de España (REE), for instance, invested heavily in the network in 2001, dedicating 78.4 million euros to expanding the electricity network. REE also announced plans in October 2001 to invest between 60.2 and 72.2 million euros to improve the electricity connection with France. Spain's three largest electricity groups - Endesa, Iberdrola, and Union Fenosa - have dedicated 34 billion euros of investments from August 2001 to 2005, with much of that in Latin America and other European countries, but nevertheless including 8 billion euros for new generating plants in Spain.
Endesa is in the process of building a natural-gas-fired, 400 MW, combined-cycle generating turbine (CCGT) plant in Huelva in addition to two other gas-fired 400-MW CCGTs the company already has under construction in Barcelona and Tarragona. Endesa recently completed the construction of a plant with 8,000 MW in Cadiz. Union Fenosa plans to add 5,000 MW of new capacity by 2005, mostly in Spain, of which 2,800 MW would be natural-gas-fired. Piemsa, an affiliate of Petronor, is planning to construct an 800-MW integrated gasification combined-cycle (IGCC) complex at a refinery near Bilbao that will make use of heavy refinery stocks. The plant will be one of the largest and most advanced of its kind in the world.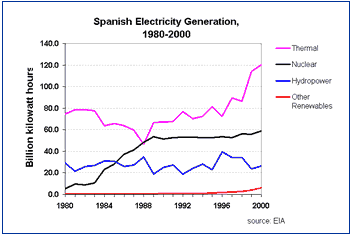 Spain's electricity market is privatizing ahead of the schedule mandated by the EU. A 1996 EU directive required that at least 26.48% of electricity sales in member countries be open to competition, beginning in February 1999. This requirement increased to about 28% in February 2000 and will grow to 33% in 2003. Spain already has surpassed the 2003 requirement. As of January 1, 2003, domestic customers have been able to choose their electricity supplier. However, customers will most likely experience limited benefit from privatization for the time being, as the Spanish government has mandated that all utilities must charge the same amount per unit, rendering true competition almost nonexistent. Furthermore, the government has mandated that between 2003-2010 prices can rise by a maximum of 2% a year. The actual percentage will be adjusted according to demand, interest rates, the treatment of renewable energy and gas prices.
The Spanish electricity sector is in the midst of restructuring. There are five major utility companies in Spain, in descending order of size: the formerly state held Endesa; Iberdrola; Union Fenosa; Hidrocantabrico; and the newly independent Viesgo. Viesgo's acquisition by Enel of Italy from Endesa was completed in January 2002, and Viesgo has a 5% market share. This is part of Enel's strategy of regaining market share abroad after selling its Elettrogen utility at home to Endesa in 2001.
In 2001, Energie Baden-Wurttemburg (EnBW), Eletricidade de Portugal (EdP), and Caja de Ahorros de Asturias (Cajastur), a Spanish bank, took joint control of Hidrocantabrico. However, this initial sale came into controversy because the Spanish government threatened to block France's state-owned utility, Electricité de France (EdF), which has a 34.5% share in EnBW, from entering the Spanish electricity market. The Spanish government enacted the Law 55/1999, which includes provisions that make the exercise of voting rights by public entities directly or indirectly taking control of or acquiring 3 percent or more of the equity in Spanish energy companies subject to the prior authorization of Spain's Council on Ministers.
The European Commission, however, approved the bid by EnBW, EDP and Cajastur but insisted on certain conditions being met. The Commission felt that because the operation could have led to the strengthening of collective dominant position of EDF, which jointly controls EnBW, on the Spanish wholesale electricity market, the company had to agree to increase the capacity on the interconnector between France and Spain to about 4,000 MW. This would create the conditions for greater electricity trade volumes to and from Spain and reduce prices for Spanish customers.
REE has been in negotiation with Hidrocantabrico and Viesgo over buying their electricity distribution operations. If REE is able to purchase them, it will become the sole transporter of electricity in Spain and the third largest transmission system operator in Europe. The Spanish government is also supporting having one company control the grid.
In August 2001, Spain and Portugal signed an agreement to form a single electricity market by unifying their electricity networks. The integration is to be completed in 2003. There remain several unresolved obstacles to completing the unified market. One obstacle is that there is minimal separation between transport and distribution activities, which remain monopolies, and production and marketing activities, which are open to competition. Another problem is that in Portugal production is sold to the state-held REN, which transports the electricity, whereas in Spain producers compete to sell electricity, but receive compensation payments for market liberalization called CTCs. The Spanish government in March 2001 reiterated its support for CTCs, but these payments are under investigation by the EU. The opposition PSOE party has called for their end. However, electricity companies have called for an end to tariff privileges enjoyed by several large industrial companies that they believe have made these companies non-competitive internationally. In addition, electricity companies would like to raise their rates, arguing that prices have fallen 17% in the past five years, while inflation for the period has been 14%. In December 2003, a 2% rate increase was authorized for industrial customers.
As electricity demand has increased rapidly in Spain in the past years, domestic supply has not kept up and Spain began importing electricity from Morocco for the first time in December 2001 when cold temperatures created a surge in demand. Union Fenosa and Endesa have signed agreements with Moroccan power company ONE. Spain granted ONE the status of an "external operator" in 1998, giving the company the right to deal directly with Spanish electricity companies or on the Spanish spot market. The power exchange between ONE and Spanish companies is through the Spain-Morocco grid interconnection, which became operational in 1998. Two power connections between Algeria and Spain are also planned, one of which will run along side the Medgaz pipeline.
Nuclear Power
Spain has nine nuclear reactors in operation with one, Vandellos-1, being shut down in 1990. According to Spain's National Energy Regulatory Commission (CNE), the country derived 33.9% of its gross production of electricity from nuclear power in 2002. For the year, Spain's nuclear power plants produced 63 bkwh, a decrease of 1.1% compared to 2001, according to CNE.
The Popular Party supports nuclear power, but the PSOE has indicated that it supports a gradual shutdown of Spain's nuclear plants. The government announced in October 2002 that it will allow nuclear power plants across the region to increase their output in order to compensate for the planned shutdowns of the Guadalajara (2006) and the Ante Maria de Gabon (2009) plants.
COUNTRY OVERVIEW
Head of State: King Juan Carlos (since November 1975)
Prime Minister: Jose Maria Aznar (since May 1996)
Independence: 1492 (expulsion of the Moors and unification)
Capital City: Madrid
Population (2002E): 40.1 million
Location/Size: Southwestern Europe, bordering the Bay of Biscay, Mediterranean Sea, North Atlantic Ocean, and Pyrenees Mountains, southwest of France/504,750 sq. km (slightly more than twice the size of Oregon)
Language: Castilian Spanish 74%, Catalan 17%, Galician 7%, Basque 2%
Religion: Roman Catholic 99%, other 1%
ECONOMIC OVERVIEW
Finance Minister: Cristobal Montoro
Currency: Euro
Exchange Rate (3/05/03): US$1= 0.9187 Euro
Gross Domestic Product (GDP, nominal, 2002E): $657 billion
Real GDP Growth Rate (2002E): 1.9% (2003F): 2.2%
Inflation Rate (consumer prices, 2002E): 3.5% (2003F): 3.3%
Unemployment Rate (2002E): 11.4% (2003F): 10.6%
Merchandise Exports (2002E): $120.9 billion
Merchandise Imports (2002E): $158.7 billion
Major Trade Partners: France, Germany, Italy, United Kingdom, United States, Portugal
Major Export Products: Automobiles, tourism, power generation equipment, electrical machinery, petroleum and chemical products, foodstuffs
Major Import Products: Crude petroleum, vehicle and automobile parts, capital goods, and food
Foreign Exchange Reserves (excluding gold) (2002E): $31.0 billion
ENERGY OVERVIEW
Proven Oil Reserves (1/1/03E): 157 million barrels
Oil Production (2002E): 20,583 barrels per day (bbl/d), of which 6,583 bbl/d was crude oil
Oil Consumption (2002E): 1.5 million bbl/d
Net Oil Imports (2002E): 1.5 million bbl/d
Crude Oil Refining Capacity (1/1/03E): 1.3 million bbl/d
Natural Gas Reserves (1/1/03E): 94 billion cubic feet (Bcf)
Natural Gas Production (2001E): 18 Bcf
Natural Gas Consumption (2001E): 627 Bcf
Net Natural Gas Imports (2001E): 609 Bcf
Coal Reserves (2000E): 728 million short tons (Mmst) (of which 507 Mmst is lignite and subbituminous, 220 Mmst anthracite and bituminous)
Coal Production (2001E): 25 Mmst
Coal Consumption (2001E): 45.19 Mmst
Electric Generation Capacity (2000E): 46.2 million kilowatts (55.4% Thermal), (25.5% Hydro), (15.9% Nuclear)
Net Electricity Generation (2001E): 222.5 billion kilowatthours (bkwh)
Electricity Consumption (2001E): 210.4 bkwh
ENVIRONMENTAL OVERVIEW
Minister of Environment: Jaume Matas
Total Energy Consumption (2001E): 5.7 quadrillion Btu* (1.4% of world total energy consumption)
Energy-Related Carbon Emissions (2001E): 82.7 million metric tons of carbon (1.3% of world carbon emissions)
Per Capita Energy Consumption (2000E): 136.7 million Btu (vs U.S. value of 351.0 million Btu)
Per Capita Carbon Emissions (2000E): 2.1 metric tons of carbon (vs U.S. value of 5.6 metric tons of carbon)
Energy Intensity (2000E): 7,684 Btu/$1995 (vs U.S. value of 10,918 Btu/$1995)**
Carbon Intensity (2000E): 0.12 metric tons of carbon/thousand $1995 (vs U.S. value of 0.17 metric tons/thousand $1995)**
Fuel Share of Energy Consumption (2001E): Oil (52.3%), Coal (15%), Natural Gas (13%), Nuclear (13%)
Fuel Share of Carbon Emissions (2000E): Oil (66.2%), Coal (22.6%), Natural Gas (11.2%)
Status in Climate Change Negotiations: Annex I country under the United Nations Framework Convention on Climate Change (ratified December 21st, 1993). Signatory to the Kyoto Protocol (signed April 29th, 1998 and ratified on May 31, 2002 - not yet entered into force).
Major Environmental Issues: Pollution of the Mediterranean Sea from raw sewage and effluents from the offshore production of oil and gas; water quality and quantity nationwide; air pollution; deforestation and desertification.
Major International Environmental Agreements: A party to Conventions on Air Pollution, Air Pollution-Nitrogen Oxides, Air Pollution-Sulphur 94, Air Pollution-Volatile Organic Compounds, Antarctic-Environmental Protocol, Antarctic Treaty, Biodiversity, Climate Change, Endangered Species, Environmental Modification, Hazardous Wastes, Law of the Sea, Marine Dumping, Marine Life Conservation, Nuclear Test Ban, Ozone Layer Protection, Ship Pollution, Tropical Timber 83, Tropical Timber 94, Wetlands and Whaling. Has signed, but not ratified: Air Pollution-Persistent Organic Pollutants, Desertification.
* The total energy consumption statistic includes petroleum, dry natural gas, coal, net hydro, nuclear, geothermal, solar, wind, wood and waste electric power. The renewable energy consumption statistic is based on International Energy Agency (IEA) data and includes hydropower, solar, wind, tide, geothermal, solid biomass and animal products, biomass gas and liquids, industrial and municipal wastes. Sectoral shares of energy consumption and carbon emissions are also based on IEA data.
**GDP based on EIA International Energy Annual 2000.
---
Sources for this report include: Asia Africa Intelligence Wire; Dow Jones International News; CIA World Factbook; Economist; Economist Intelligence Unit; Electric Utility Week; Europe Information Service; European Union; Financial Times; Gas Natural; Global Insight; International Energy Agency; National Energy Regulatory Commission(Spain); Petroleum Economist; Power Engineering International; Power News; Red Electrica de España; Repsol-YPF; Reuters; U.S. Census Bureau; U.S. Department of Commerce; U.S. Department of State; U.S. Energy Information Administration; World Gas Intelligence; World Markets Online.
---
LINKS
For more information from EIA on Spain, please see:
Spain Country Data
Links to other U.S. Government Sites:
CIA World Factbook - Spain
International Nuclear Safety Center at Argonne National Laboratory
U.S. State Department Consular Information Sheet - Spain
U.S. State Department Country Commercial Guide - Spain
U.S. State Department Background Notes - Spain
U.S. Department of Labor, Bureau of Labor Statistics
U.S. Embassy in Spain
The following links are provided solely as a service to our customers and should not be construed as advocating or reflecting any position of the Energy Information Administration (EIA) or the United States Government. EIA does not guarantee the content or accuracy of any information in linked sites.
Repsol-YPF
Cepsa
Gas Natural Group
Endesa
Iberdrola
Union Fenosa
Spanish Embassy in Washington, D.C.
European Commission Directorate General XVII (Energy)
---
If you liked this Country Analysis Brief or any of our many other Country Analysis Briefs, you can be automatically notified via e-mail of updates. You can also join any of our several mailing lists by selecting the listserv to which you would like to be subscribed. The main URL for listserv signup is http://www.eia.doe.gov/listserv_signup.html. Please follow the directions given. You will then be notified within an hour of any updates to Country Analysis Briefs in your area of interest.

Return to Country Analysis Briefs home page

File last modified: March 14, 2003

Contact:

Lowell Feld
lfeld@eia.doe.gov
Phone: (202)586-9502
Fax: (202)586-9753