COUNTRY OVERVIEW
Head of State: Queen Elizabeth II
Prime Minister: Anthony (Tony) Blair, re-elected June 2001
Population (2002E): 59.8 million
Location/Size: Western Europe, islands including the northern one-sixth of the island of Ireland between the North Atlantic Ocean and the North Sea, northwest of France/244,820 sq km (slightly smaller than Oregon)
Capital City: London
Language: English
Ethnic groups: English 81.5%, Scottish 9.6%, Irish 2.4%, Welsh 1.9%, Ulster 1.8%, West Indian, Indian, Pakistani, and other 2.8%
Religions: Anglican and Roman Catholic 40 million, Muslim 1.5 million, Presbyterian 800,000, Methodist 760,000, Sikh 500,000, Hindu 500,000, Jewish 350,000 (1991 est.)
Defense (8/98): Army, 113,900; Navy, 44,500; Air Force, 52,540
ECONOMIC OVERVIEW
Chancellor of the Exchequer: Gordon Brown
Currency: Pound sterling
Exchange Rate (1/30/03): 1 US Dollar = 0.61 pounds
Gross Domestic Product (2002E): $1,527 billion
Real GDP Growth Rate (2002E): 1.6% (2003E): 2.7%
Inflation Rate (consumer prices, 2002E): 2.0% (2001E): 2.3%
Unemployment Rate (2002E): 3.1%
Merchandise Exports (2002E): $283 billion
Merchandise Imports (2002E): $324 billion
Merchandise Trade Deficit (2002E): $41 billion
Current Account Balance (2002E): -$22.8 billion
Major Trading Partners: United States, Germany, France, Netherlands
Major Exports: Food, beverages, and tobacco; crude materials, fuels, chemicals, machinery, transport equipment
Major Imports: Food, beverages, and tobacco; crude materials, fuels, chemicals, machinery, transport equipment
ENERGY PROFILE
Secretary of State for Trade and Industry: Patricia Hewitt
Minister of State for Industry and Energy: Brian Wilson
Proven Oil Reserves (1/1/03): 4.9 billion barrels
Oil Production (2002E): 2.53 million bbl/d, of which 2.25 million bbl/d was crude oil
Oil Consumption (2002E): 1.7 million bbl/d
Net Oil Exports (2002E): 0.83 million bbl/d
Crude Oil Refining Capacity (1/1/03E): 1.78 million bbl/d
Natural Gas Reserves (1/1/03E): 26.0 trillion cubic feet (Tcf)
Natural Gas Production (2000E): 3.8 Tcf
Natural Gas Consumption (2000E): 3.4 Tcf
Natural Gas Net Exports (2000E): 0.4 Tcf
Major Systems: Brent, Ninian, Forties, Flotta, Fulmar
Major Fields: E. Brae, Brent, Forties, Magnus, Miller, Scott
Oil and Gas Companies: Amerada Hess, BP Amoco, BHP, Chevron, ExxonMobil, Kerr-McGee, Phillips, Ranger Oil, Shell, Texaco
Recoverable Coal Reserves (12/31/99E): 1.65 billion short tons
Coal Production (2000E): 35.3 million short tons (Mmst)
Coal Consumption (2000E): 66.1 Mmst
Electrical Generation Capacity (1/1/00): 72.4 gigawatts (79.8% thermal, 17.9% nuclear, 2.0% hydro, 0.2% other)
Electricity Generation (2000E): 355.8 billion kilowatt hours (bkwh)
Electricity Consumption (2000E): 345.0 bkwh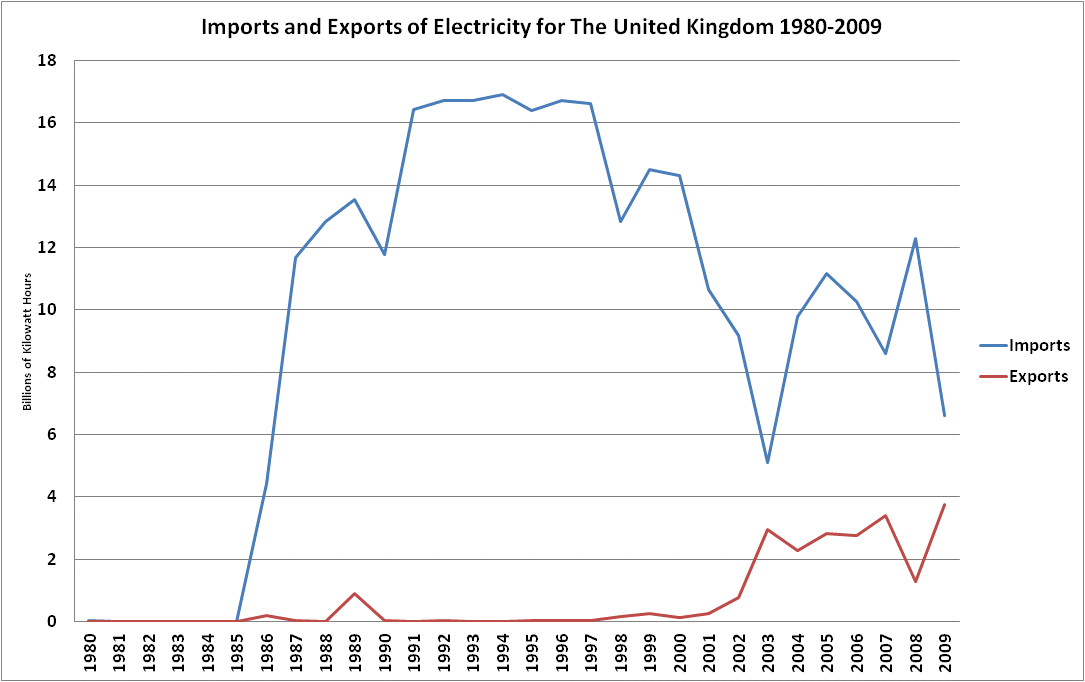 ENVIRONMENTAL OVERVIEW
Secretary of State for the Environment, Food, and Rural Affairs: Margaret Beckett
Total Energy Consumption (2000E): 9.9 quadrillion Btu* (2.6% of world total energy consumption)
Energy-Related Carbon Emissions (2000E): 147.8 million metric tons of carbon (2.5% of world carbon emissions)
Per Capita Energy Consumption (2000E): 166.1million Btu (vs. U.S. value of 355.8 million Btu)
Per Capita Carbon Emissions (2000E): 2.5 metric tons of carbon (vs. U.S. value of 5.6 metric tons of carbon)
Energy Intensity (2000E): 7,632 Btu/$1995 (vs U.S. value of 10,918 Btu/$1995)**
Carbon Intensity (2000E): 0.11 metric tons of carbon/thousand $1995 (vs U.S. value of 0.17 metric tons/thousand $1995)**
Fuel Share of Energy Consumption (2000E): Oil (35.1%), Natural Gas (36.3%), Coal (15.4%)
Fuel Share of Carbon Emissions (2000E): Oil (38.9%), Natural Gas (35.5%), Coal (25.5%)
Status in Climate Change Negotiations: Annex I country under the United Nations Framework Convention on Climate Change. Under the negotiated Kyoto Protocol (signed on April 29th, 1998 - not yet ratified), the UK has agreed to reduce greenhouse gases 8% below 1990 levels by the 2008-2012 commitment period.
Major Environmental Issues: Sulfur dioxide emissions from power plants contribute to air pollution; some rivers polluted by agricultural wastes and coastal waters polluted because of large-scale disposal of sewage at sea.
Major International Environmental Agreements: A party to Conventions on Air Pollution, Air Pollution-Nitrogen Oxides, Air Pollution-Sulphur 94, Air Pollution-Volatile Organic Compounds, Antarctic-Environmental Protocol, Antarctic Treaty, Biodiversity, Climate Change, Desertification, Endangered Species, Environmental Modification, Hazardous Wastes, Law of the Sea, Marine Dumping, Marine Life Conservation, Nuclear Test Ban, Ozone Layer Protection, Ship Pollution, Tropical Timber 83, Tropical Timber 94, Wetlands and Whaling.
* The total energy consumption statistic includes petroleum, dry natural gas, coal, net hydro, nuclear, geothermal, solar, wind, wood and waste electric power. The renewable energy consumption statistic is based on International Energy Agency (IEA) data and includes hydropower, solar, wind, tide, geothermal, solid biomass and animal products, biomass gas and liquids, industrial and municipal wastes. Sectoral shares of energy consumption and carbon emissions are also based on IEA data.
**GDP based on EIA International Energy Annual 2000.
---
Sources for this report include: Aberdeen Press & Journal; BBC News; CIA World Factbook; Economist; Economist Intelligence Unit ViewsWire; Financial Times; Global Insight World Economic Outlook; Hart's European Offshore Petroleum Newsletter; International Energy Outlook 2002; Oil & Gas Journal; Petroleum Economist; Petroleum Intelligence Weekly; The Scotsman; U.K. Department of Trade and Industry; U.S. Energy Information Administration; WMRC Daily Outlook.
---