Report: China could cheaply control coal-plant emissions
Oct 14, 2009 - Dan Vergano - USA Today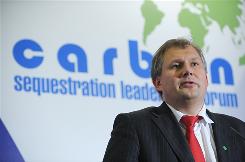 Frantzesco Kangaris, AFP/Getty Images
Norway Minister of Petroleum and Energy Terje Riis-Johansen speaks at the Carbon Sequestration Leadership Forum in London, Oct. 13. International energy and environment ministers converged on London Tuesday to move collaboration on carbon capture and storage forward ahead of the U.N. Climate Change talks in Copenhagen.
HOW SEQUESTERING WORKS


China has 90 geologic formations that could "sequester" carbon dioxide from power plants and factories before it can enter the atmosphere.

1) Burning coal or other fossil fuels produces a concentrated stream of flue gases through various combustion methods. For geologic storage, the gas is captured and sent by pipeline to a well over a deep saltwater reservoir.

2) The gas is compressed and injected into the reservoir, typically capped by impermeable rock. Volcanic basalt layers might also hold the gas.

3) The gas remains trapped in the reservoir. About 30% of the gas will dissolve into the water within a few decades. Below 2,600 feet, the gas becomes liquid and can be trapped in porous rock.

4) Monitoring of the reservoir continues to ensure there are no leaks, which could pose a health hazard if concentrated gas escapes. But a 2005 Intergovernmental Panel on Climate Change report rated it "very likely" such reservoirs would trap 99% of the gas for a century.

5) Over centuries, much of the gas would dissolve into the saline water deposit, although monitoring probably would continue. Source: "Carbon Dioxide Capture and Storage" report, Intergovernmental Panel on Climate Change
Pacific Northwest National Laboratory, Chinese Academy of Sciences, Joint Global Change Research Institute, Department of Energy
A map of China shows geologic structures able to store carbon dioxide captured from coal plants and other industries, color-coded to show how full they would be (by percentage) in 2100.
Getting China's coal-plant emissions out of the atmosphere so they don't worsen global warming may be cheaper, easier and longer-lasting than expected, a federal energy lab report finds.
The Pacific Northwest National Laboratory report, set for release today in London, says there are vast underground reserves in China that can be used for "carbon sequestration," a carbon dioxide-trapping technology considered vital to cutting greenhouse gas emissions.
"Conventional thinking had been that China did not have a lot of storage for carbon. But it turns out China does," says the lab's Robert Dahowski, the report's lead author. "Enough for many decades, perhaps hundreds of years."
Carbon sequestration, which today is used only in a few oil fields and experimental projects, works by capturing carbon dioxide from smokestacks, compressing it and pumping it underground into deep saltwater reservoirs capped by layers of impermeable stone.
In 2007, the Intergovernmental Panel on Climate Change found that global atmospheric temperature rose about an average of 1.3 degrees Fahrenheit over the past century. About about half of this "global warming" is driven by fossil-fuel-related emissions of carbon dioxide.
The report finds that the cost of transporting, injecting and monitoring carbon dioxide from China's 1,623 largest sources — coal, cement, ammonia plants and factories — would average $5 to $7 a ton, about half of estimated costs in the USA.
Further, China's deep geology features rock layers that are perfect for pumping carbon dioxide underground. The report maps at least 2,300 billion metric tons of potential underground storage for carbon in China, Dahowski says. China's major plants emit about 3.8 billion metric tons a year.
"I would call it good news for the climate," says geologist Julio Friedmann of the Lawrence Livermore (Calif.) National Lab, who was not part of the study. Friedmann says China's geology, coal use and low construction costs make pumping carbon underground "low-hanging fruit" to cut greenhouse gas emissions.
On Monday, Energy Department chief Stephen Chu called for "widespread, affordable" carbon storage in 10 years. Chu noted that coal, on which China and the USA depend for electricity, supplies 25% of the world's energy and accounts for 40% of carbon emissions.
"The next step for carbon sequestration is really just doing it on a large scale," says Stanford's Franklin Orr, who wrote a review of the technology in the journal Science last month. "The technology is there already."
---

Email this page to a friend


Updated: 2016/06/30
If you speak another language fluently and you liked this page, make a contribution by translating it! For additional translations check out FreeTranslation.com (Voor vertaling van Engels tot Nederlands) (For oversettelse fra Engelsk til Norsk)
(Для дополнительных переводов проверяют FreeTranslation.com )