Energy-thrifty White House turns deeper shade of green
Dec 18, 2009 - Mimi Hall- USA Today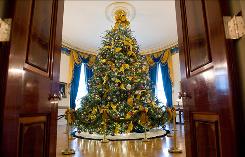 By Saul Loeb, AFP/Getty Images
The official White House Christmas tree is displayed in the Blue Room. The Douglas fir is lit with environmentally friendly LED lights and decorated with more than 800 ornaments from previous White House administrations.
WASHINGTON — The White House complex and the federal government are going green — and not just with Christmas trees and holly.
As President Obama meets with world leaders at the United Nations climate conference in Copenhagen today, the government he runs at home is quietly engaged in an unprecedented effort to reduce its carbon footprint, increase energy efficiency, conserve water, cut waste and more.
In the complex that includes the White House, that means more efficient heating and cooling systems as well as organic paint, low-flow toilets and lights that turn off by themselves. Even the 800 Christmas ornaments adorning the 18-foot tree in the White House Blue Room were recycled from previous administrations in a nod to the environment and the bad economy.
In many of the federal government's other 500,000 buildings, the effort to go green includes cutting the amount of garbage produced in half and installing more efficient lights.
"This is a big leap forward for the federal government," says Nancy Sutley, chairwoman of Obama's White House Council on Environmental Quality. And the effort will be "sustainable itself beyond this president."
Sutley says the federal government is the country's single largest energy consumer, using 1.6% of all the power used nationwide, so reducing energy consumption will mean big savings.
The nation is the world's second-largest producer of greenhouse gases, behind China, and the cuts could help there, as well, environmentalists say.
Erich Pica of Friends of the Earth says, "There are many economies of scale that President Obama can achieve by forcing the federal government to rethink its energy habits."
Obama is not the first president to try to green the government. Jimmy Carter installed solar panels on the White House roof, though they were removed by Ronald Reagan. Bill Clinton took steps to reduce waste and energy consumption. Some of the green changes at the White House were started under George W. Bush.
Environmental groups say Obama's efforts go far beyond what's been done before. "There's real substance behind the rhetoric," says Joel Makower, editor of GreenBiz.com, which reports on the greening of mainstream business.
Under a 15-page executive order Obama signed in October, government agencies must implement a host of changes, Sutley says. Among the requirements:
• Agencies must reduce waste by 50% by 2015.
• Agencies must show a 26% improvement in water efficiency by 2020.
• All new buildings and any major renovations to existing buildings must be eligible for LEED (Leadership in Energy and Environmental Design) certification given by the U.S. Green Building Council to environmentally responsible buildings. In and around Washington, the Pentagon and the ornate 121-year-old Eisenhower Executive Office Building adjacent to the White House are in the process of becoming LEED-certified.
• The government's 600,000 vehicles must operate with 30% less petroleum by 2020.
Pentagon officials, Sutley says, are "thinking about how they can power their vehicles in different ways, so they don't have to transport as much fuel," a change that would save money and improve safety for servicemembers.
The president's motorcade will continue guzzling gas. Because of heavy security retrofits, the vehicles can't be altered to use less fuel.
As for Obama's own carbon footprint, environmentalists are willing to cut him some slack — even after he took his wife to a play on Broadway by jet in May. "He's the president," Makower says. "He can't jump on the shuttle the way you and I can."
Contributing: Wendy Koch
---

Email this page to a friend


Updated: 2016/06/30
If you speak another language fluently and you liked this page, make a contribution by translating it! For additional translations check out FreeTranslation.com (Voor vertaling van Engels tot Nederlands) (For oversettelse fra Engelsk til Norsk)
(Для дополнительных переводов проверяют FreeTranslation.com )