Financing Heating Up For Solar Industry
Sep 29, 2009 - Donna Howell - Investor's Business Daily


This SolarCity installation is on a single-family home in Phoenix.
Lending is starting to flow a little more freely toward solar-power projects and providers, after a stall. The industry, still beset by oversupply and reliant on government perks for survival, could use the help.
Financing "is one of the most important issues — maybe the most important," said John Hardy, a Broadpoint AmTech analyst.
It's all some projects need to move forward, he says. "For the most part, the (financing) math makes sense on good-quality projects," with a key tax credit's availability extended through 2016. On the other hand, he says, interest rates for funding solar projects are as much as 2% higher than a couple years ago.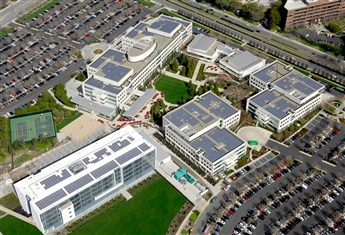 Among SolarCity's larger projects is this one at eBay's corporate headquarters in San Jose, Calif.
On Tuesday, the top installer of solar power systems for U.S. homes, SolarCity, said it's doubled to $100 million a financing arrangement it has with U.S. Bancorp (USB). The tax-equity plan lets privately held SolarCity provide nothing-down "solar leases" to customers, who pay back over time as their new solar systems save money vs. old electric bills.
While banks remain selective, financing in the solar industry is better than it's been the past year, says Lyndon Rive, CEO of Foster City, Calif.-based SolarCity.
"Financial markets in general are improving since the cliff we (all) fell off starting in August last year," he said.
One big factor, he points out, is a change made by the federal stimulus bill in February. Where the feds had provided a 30% investment tax credit on solar projects, the government has begun letting that be taken instead as an upfront cash grant.
That makes "a big difference in the banks being able to do this," Rive said. Applications came out at the end of July
. "You're seeing smaller projects first are finding it much easier to get funding than six months ago," Hardy said.
SolarCity installs solar systems with components made by the likes of First Solar (FSLR), the No. 1 solar company in the U.S. First Solar also is ramping up its financing. This month, Tempe, Ariz.-based First Solar said it has a new $300 million revolving-credit facility from a syndicate of nine financial firms. China's Trina Solar (TSL) also recently said it got a $304 million, five-year loan.
"Far and away, First Solar and (No. 2 U.S. solar supplier) SunPower (SPWRA) are the top beneficiaries of project financing in the U.S.," Hardy said. "SunPower is going to begin construction on a very large project for PG&E (PCG) next year. First Solar is starting projects with SoCal Edison."
---

Email this page to a friend


Updated: 2016/06/30
If you speak another language fluently and you liked this page, make a contribution by translating it! For additional translations check out FreeTranslation.com (Voor vertaling van Engels tot Nederlands) (For oversettelse fra Engelsk til Norsk)
(Для дополнительных переводов проверяют FreeTranslation.com )