Obama Renewables Plan More Ambitious Than Appears
Jan 12, 2009 - Nicola Groom - Reuters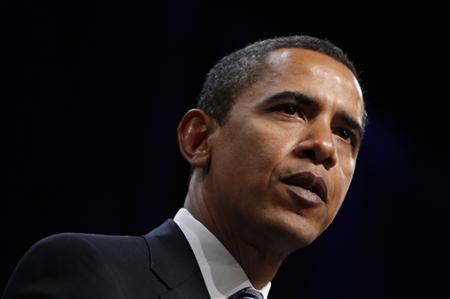 U.S. President-elect Barack Obama makes a speech on the economy at George Mason University in Fairfax, Virginia, January 8, 2009. Photo: Jim Young
LOS ANGELES - President-elect Barack Obama's call for an ambitious renewable energy plan underscores just how bad things have gotten for makers of solar panels and wind turbines.
The goal to double alternative energy production in three years will effectively maintain the high-flying industry's recent growth rates rather than targeting sharper increases, reflecting the harsh new reality facing green power.
"Doubling over that period is a little more ambitious than one would have thought six months ago," said Banc of America Securities-Merrill Lynch analyst Steven Milunovich. "It's not a huge stretch goal but given what growth rates probably are now it's realistic and may even be a little bit of a push."
Obama asked Congress on Thursday "to act without delay" to pass legislation that included doubling alternative energy production in the next three years and building a new electricity "smart grid."
In his speech, Obama gave few specifics on how he would enact those plans, but wind and solar companies who have seen investment in new projects grind to a virtual halt in recent weeks applauded the move as a major step forward for the United States, which trails nations such as Germany in its use of renewables.
Peter Brun, head of government relations at Denmark's Vestas, the world's biggest maker of wind turbines, said the move was a clear "signal" to the markets of Obama's support for renewables. A spokesman for top solar panel maker Q-Cells said "more could be done, but the main point is that renewable energy is now really taking off in the U.S."
An Obama aide on Friday said the administration would seek to add 20 gigawatts (GW) or more of wind power and 4 GW of geothermal and solar power in the next three years, doubling the nation's current renewable power base of 24 GW through loan guarantees and, eventually, national renewable energy requirements.
U.S. wind and solar trade groups welcomed the news, saying maintaining recent growth rates was aggressive considering the current economic environment.
"This is a bold statement by (Obama), although in the last three years we have doubled," said Denise Bode, Chief Executive of U.S. wind industry trade group the American Wind Energy Association. "After years of dramatic growth the turmoil in the financial markets are at last reaching our industry."
In the United States, both solar and wind generation grew well over 40 percent in 2007, the last year for which figures are available, according to the AWEA and the Solar Energy Industries Association.
Without help from the federal government to restart investment, Bode said the wind industry could see new projects drop as much as 50 percent next year from 2008 levels.
Despite thin details, shares of renewable energy companies soared following the announcement, with the rally continuing into Friday. The move was an about-face for many of those stocks, which have been battered by a string of recent earnings warnings from solar companies including Germany's Q-Cells, U.S.-based MEMC Electronic Materials Inc, and China's LDK Solar Co Ltd.
Given the small contribution wind and solar make to the United States' electricity supply -- just above 1 percent for wind and less than 1 percent for solar -- one investor said Obama's plan would be meaningful to the fledgling industry.
"Solar is less than half a percent of electrical generation in this country right now. That is nothing," said Kevin Landis, manager of the Silicon Valley-based Firsthand Alternative Energy Fund. "So if the federal government decides they want to turn the dial hard, even if they only want to bump it up by one percent, that's big. That could help quite a bit."
Analysts cautioned, however, that investors should not expect to see an overnight recovery in shares of renewable energy companies as the weak economy is expected to weigh on them for at least the next several months.
"We expect shares to continue to remain volatile, moving upward in response to positive headlines surrounding favorable long-term industry prospects and downward in response to short-term negative data points," Wedbush Morgan analyst Al Kaschalk said in a client note this week.
(Additional reporting by Jeff Mason in Washington, Karin Jensen in Copenhagen, Gerard Wynn in London and Christoph Steitz in Frankfurt)
(Editing by Bernard Orr)
© Thomson Reuters 2009 All rights reserved
---

Email this page to a friend


Updated: 2016/06/30
If you speak another language fluently and you liked this page, make a contribution by translating it! For additional translations check out FreeTranslation.com (Voor vertaling van Engels tot Nederlands) (For oversettelse fra Engelsk til Norsk)
(Для дополнительных переводов проверяют FreeTranslation.com )