Climate change doubling big power outages, group says
Apr 11, 2014 - Dan Gearino - The Columbus Dispatch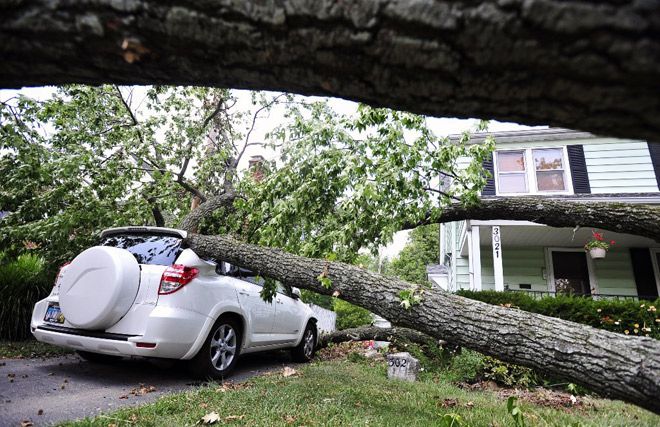 A massive limb crushed a Toyota and took down a number of nearby powerlines in Clintonville, 2012.
An increase in severe weather has led to a doubling of major power outages across the country in the past decade, according to a new report from a climate-change research group.
American Electric Power, with its 11-state footprint and largely rural service territory, has been affected as much or more than any other utility.
It had the most major outages - 42 - of any utility, and it ranked fourth in the number of customers affected by major outages, 6.6 million.
The study from Climate Central says that severe weather caused 80 percent of the major outages from 2003 to 2013. A major outage is defined as one that affects at least 50,000 people or interrupts at least 300 megawatts; 1 megawatt can power about 1,000 homes.
"Heat waves are hotter, heavy rain events are heavier, and winter storms have increased in both frequency and intensity," the report says. "To date, these kinds of severe weather are among the leading causes of large-scale power outages in the United States."
The number of major outages was double that recorded during the prior 10-year period, though the author notes that reporting requirements have changed, which might be driving some of the increase.
Michigan had the most major outages with 71, followed by Texas with 57 and Ohio with 54.
AEP has a presence in each of those states. Its service area encompasses 11 states, more than any other utility in the report.
"(Al)most any storm system that moves across the country is going to hit part of AEP's service area," said AEP spokeswoman Tammy Ridout.
Central Ohio has had several major storms in the past decade that led to prolonged power failures. The largest were in 2008, when the remnants of Hurricane Ike crossed the state, and 2012, when the region was hit by a derecho, a straight-line windstorm.
AEP has spent $1.2 billion since 2009 to make its Ohio systems more reliable, Ridout said. This includes $310 million for additional tree-trimming, which can help prevent outages caused when tree branches fall on utility lines during storms, and $300 million to replace old equipment.
Climate Central, based in New Jersey, describes itself as an independent research group that reports on climate change. It is one of many groups that are looking at the potential reasons severe storms appear to be becoming more frequent and more destructive.
"You can't blame any particular (weather) event on climate change," said Steve Clemmer, director of energy research for the Union of Concerned Scientists. "Climate change is the trend over time, and the problem is going to get worse over time. What we put into the air is going to be there for a long time."
His group is about to release its own report about the connections between severe weather and climate change.
Last month, the Intergovernmental Panel on Climate Change issued a study that said, in part, that the increasing occurrence of severe weather could lead to infrastructure breakdowns with far-reaching consequences.
The panel has said that energy production is one of the world's leading sources of gases that contribute to climate change. Electricity utilities in the United States are moving away from the dirtiest fuels and installing equipment to reduce emissions, but there is less of a push to do so in many other countries.

Email this page to a friend


Updated: 2016/06/30
If you speak another language fluently and you liked this page, make a contribution by translating it! For additional translations check out FreeTranslation.com (Voor vertaling van Engels tot Nederlands) (For oversettelse fra Engelsk til Norsk)
(Для дополнительных переводов проверяют FreeTranslation.com )