Big Growth Expected For High-Voltage Transmission Sector
Dec. 5, 2011 - renewgridmag.com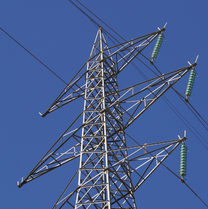 Investment in high-voltage transmission (greater than 345 kV) in the U.S. is expected to top $41 billion over the next 10 years, with more than 40% of it being made in just the first three years, according to a study from IHS Emerging Energy Research.
Growing power demand, increasingly rigorous reliability standards and the ongoing drive to integrate larger amounts of renewables into the power mix are among the major factors driving transmission investment, the study finds.
The study analyzes the U.S. transmission grid and evaluates the impact on renewable energy markets, the investment required in high-voltage lines and the competitive positioning of established and emerging transmission developers and owners. The study expects high-voltage transmission to account for roughly 40% of total U.S. transmission investment over the next decade.
"The investment focus has really shifted toward higher-voltage lines," says Alex Klein, an IHS analyst. "Improved regional planning and continued regulatory emphasis on regional high-voltage lines as more cost-effective than local low-voltage solutions could afford high-voltage transmission an increasing share of the total transmission investment."
More than 40% of the total investment in high-voltage transmission will be made by 2013 - driven by major initiatives in California and Texas - followed by a lower level of sustained investment of $3 billion per year, the study finds.
The desire to unlock renewable resources is having a very significant impact on spurring high-voltage transmission investment, the study says. In addition to capacity investment directly related to renewables (about $11 billion), the challenge of unlocking those resources has caused developers and planners to re-examine the need for improved transmission across the board following decades of underinvestment in the sector.
"The greatest influence on renewables has been as a catalyst for rethinking procedures by which transmission is planned and paid for," says Klein. "The drive to incorporate these new sources into the power mix has highlighted existing reliability and congestions issues and brought a renewed focus on the country's transmission networks as a whole."
While traditional key players in transmission development - incumbent utilities - are expected to lead the new development (with many establishing new partnerships and subsidiaries to pursue what they view as a growth opportunity), new non-utility players from across the energy spectrum are increasingly getting into the game.
These new entrants are almost exclusively focused on renewables, and many are pursuing novel business models rather than traditional regional cost-allocation structures, the study says.
New market entrants include diversified energy players, independent power producers and pure-play transmission developers.
---

Email this page to a friend


Updated: 2016/06/30
If you speak another language fluently and you liked this page, make a contribution by translating it! For additional translations check out FreeTranslation.com (Voor vertaling van Engels tot Nederlands) (For oversettelse fra Engelsk til Norsk)
(Для дополнительных переводов проверяют FreeTranslation.com )