Congratulations Fisker for raising $85 million for your electric Vehicle, the Fisker Karma
Apr 7, 2009 - AlternativeEnergy.com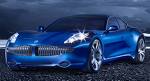 IRVINE, Calif., April 6 /PRNewswire/ -- Fisker Automotive, Inc., a leading producer of advanced green technology automobiles, announced today it has entered into definitive agreements to receive an additional $85 million in venture capital funding for the development and manufacturing of its Karma plug-in hybrid automobiles. The financing is expected to be completed this month and will be the fourth and largest investment round since the company's inception in August 2007.



New York-based Eco-Drive (Capital) Partners LLC, a European-American investment consortium, and Kleiner Perkins Caufield and Byers, an early investor in Fisker, have together agreed to provide the capital.

"The investment by Eco-Drive and Kleiner Perkins validates our vision of joining together the advances in technology for plug-in hybrid powertrains with the ecochic beauty and eco-conscious comfort of the Fisker Karma. We are proud to have Eco-Drive behind us, and to see Kleiner Perkins reaffirm its confidence in our future direction," said Henrik Fisker, Fisker Automotive CEO. "This investment is a strong endorsement of our business model and future product offerings in a challenging business environment."

Fisker Automotive's debut model, the 2010 Fisker Karma, is expected to be the first plug-in hybrid car to market when early production vehicles come off the assembly line late this year. The 2010 Karma, planned to retail for $87,900 before tax credits, is designed to travel approximately 50 miles emission-free, powered by a Lithium-ion battery that can be charged in a few hours from any 110- or 240-volt household outlet. After 50 miles, a 2.0 liter gasoline engine runs a generator that can power the car's electric motors for another 250 miles before refueling.

The company recently announced a nationwide network of more than 30 prestigious retailers that are expected to market and service the vehicles. Future plans include a lower cost vehicle.

Fisker Automotive, founded in August 2007 by auto design house Fisker Coachbuild, LLC, and clean-powertrain developer Quantum Technologies (QTWW), is a privately owned American car company producing premium green automobiles. Global headquarters are located in Irvine, Calif. More information is available online at www.fiskerautomotive.com.
---

Email this page to a friend


Updated: 2016/06/30
If you speak another language fluently and you liked this page, make a contribution by translating it! For additional translations check out FreeTranslation.com (Voor vertaling van Engels tot Nederlands) (For oversettelse fra Engelsk til Norsk)
(Для дополнительных переводов проверяют FreeTranslation.com )