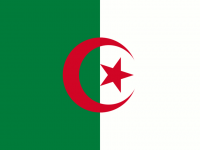 Algeria's FiT for large PV power plants will underpin its 800MW goal by 2020. Image: Wikimedia Commons.
Algeria has launched a feed-in tariff (FiT) for large-scale PV power plants to support its goal of building 800MW of solar capacity by 2020.
The North African country will offer two different FiT rates - one for plants of between 1 and 5MW, another for over 5MW.
The FiTs will be available under 20-year power purchase agreements, although different rates will be paid for the final 15 years of the agreement. A limit has been set on the number of generating hours eligible for FiT payments.
For plants of 1-5MW, the FiT has been set at reference rate of US$0.20/kWh for up to 1,500-1,574kWh per year for the first five years. Over the following 15 years, payments will vary depending on plant outputs, with those generating above the reference quota receiving less and those generating less receiving higher rates.
For plants over 5MW, a similar system will apply: a reference rate of US$0.16/kWh will be paid to plants generating 1,500-1,574kWh per year for the first five years; thereafter that rate will fall or increase for plants producing respectively more or less than the reference output.
Algeria has a national programme targeting 22,000MW of renewable energy capacity from 2030, and has a stated aim of becoming leading player in solar power.
The launch of the FiT coincides with the initial deployment phase of this programme, which is expected to run from 2014-2015.
After this, between 2016 and 2020, the programme is scheduled to enter a 'large-scale' deployment phase, during which the Algerian government hopes to build 800MW of PV generation capacity.
Already, some of the leading international solar players have started showing an interest in Algeria, with Yingli forming part of a Chinese consortium working on 320MW of projects and Germany's Belectric working on 80MW.
Boukhalfa Yaici, CEO of Algeria-based consulting firm, EnR Engineering Services, said the FiT was needed to help Algeria meet its demand for electricity, which he said was growing at a "double digit" rate.
"We have been waiting for this FiT [for] many years. This is a chance for professional companies to be involved in new projects with the aim to create jobs, developing a local know-how and getting out from fossil hydrocarbons," he said.