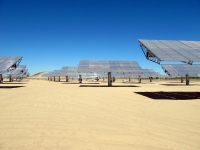 Soitec CPV modules. The company has built a 26kW demonstration project in Namibia. Image: Alstom.
The energy minister of Namibia, southern Africa, has called for greater deployment of solar to provide power in off-grid locations.
Isak Katali was speaking at the inauguration of a 26kW demonstration project built by French concentrator PV firm specialist, Soitec, near the Namibian capital Windhoek.
Katali said that with solar irradiance of 3,000kWh per metre squared every year, Namibia had ample resources to electrify areas not connected to the national grid.
"It is clear through projects such as this that plenty of opportunities exist for small-scale renewable energy projects," Katali said of Soitec's Usib project.
"Independent power producers in solar, wind and biomass are thus strongly encouraged to invest in renewable energy projects such as this one," he added.
Katali said a rural electricity "master plan" published by the government had identified areas of Namibia where grid electrification would be problematic for the "foreseeable future", and where solar power could provide a solution.
"I would therefore like to request the project partners to consider replicating this project in other suitable areas, particularly to remote villages in the country that are far away from the national grid. I am aware of the huge financial implications of such projects, but I'm convinced that through forming partnerships this can be realised," he said.
Usib, a joint project between Soitec and NamPower, Namibia's national power utility, comprises two CPV systems and provides electricity to the local primary school and a water pump, which irrigates the community garden.
Soitec built the system and will operate it until next year, after which operations and maintenance will pass to NamPower.
NamPower managing director, Paulinus Shilamba, said: "This [project] is an ideal blueprint … as it provides the necessary technological framework and conditions for the successful transfer and deployment of this specific renewable energy technology for on-grid power generation.
"It is also a good example of how the energy sector can make a meaningful contribution to socio-economic development in the country through utilisation of the energy of the sun; a natural resource Namibia is blessed with in abundance."