Solar-driven Stirling engines get to work
Jan 22, 2010 - Martin LaMonica - CNET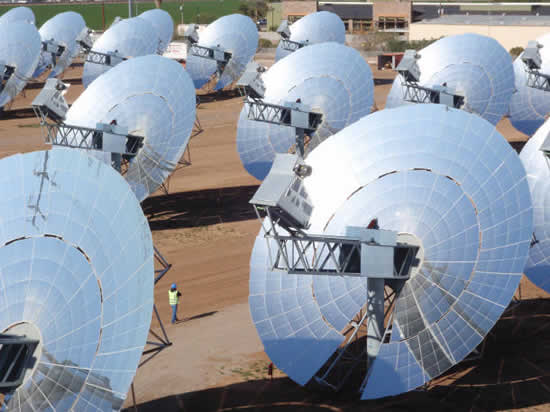 (Credit: Salt River Project)
Business and government officials on Friday cut the ribbon on a planned factory in Arizona that will build giant parabolic dishes to generate electricity from the sun.
Stirling Energy Systems and solar plant developer Tessera Solar said that 60 of the solar collectors, called the SunCatcher, will be installed this year in Peoria, Ariz., as part of a 1.5-megawatt installation for utility Salt River Project.
Utilities installing large-scale solar power generation are typically using arrays of flat photovoltaic panels or concentrating solar power systems, where mirrors or reflective troughs create heat to make electricity.
The Stirling Energy Systems technology also captures heat by using a mirrored parabolic dish which moves to track the sun. But instead of heating a liquid to make steam for a turbine, the heat is directed at a hydrogen gas-filled piston which drives a Stirling engine to make electricity.
The company claims its technology delivers electricity more efficiently and uses less water than other technologies. Inifinia is another company that has built a solar-powered Stirling engine using a parabolic dish, although it is smaller.
Tessera Solar said that the planned plant will allow it to construct power-generating facilities using the dishes, each of which has the capacity to generate 25 kilowatts. The company has said that it has contracts to installs as much as 1,600 megawatts worth of capacity in California and Texas.
Martin LaMonica is a senior writer for CNET's Green Tech blog. He started at CNET News in 2002, covering IT and Web development. Before that, he was executive editor at IT publication InfoWorld.
---

Email this page to a friend


Updated: 2003/07/28