GM to build world's biggest rooftop solar station in Spain
Jul 8, 2008 - Yahoo News - energycentral.com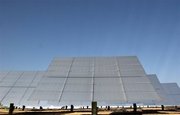 AFP/File Photo: A solar thermal electric power plant in Sanlucar La Mayor, Spain in mid February.US automobile giant General Motors is set to announce that it will build the world's largest rooftop solar power station at its biggest factory in Europe. (AFP/File/Cristina Quicler)
MADRID (AFP) - US automaker General Motors said Tuesday it will equip the roof of its factory in Zaragoza in northeastern Spain with solar panels to create the world's largest rooftop source of power from the sun.
The electricity produced by the 10 megawatt installation will be used by the plant, GM's biggest in Europe, and also be sold to the local power grid, a company spokesman said.
"GM's Zaragoza plant will become home to the biggest roof-top solar power station worldwide. This has significant potential to reduce costs at the plant," GM Europe President Carl-Peter Forster said in a statement.
The company may install similar projects at GM Europe's 11 other assembly and eight component plants depending on the results in Zaragoza, he added.
The installation will generate enough power annually to supply 4,600 households when it is completed at the end of September, the statement said.
It will comprise about 85,000 solar panels and cover about 2,000,000 square feet (183,000 square metres) of roof at the plant which assembles more than 480,000 vehicles a year for the European market.
GM currently has two of the largest solar power installations in the United States on the roofs of its Rancho Cucamonga and Fontana, California parts warehouses.
The company is due to install solar panels on its factory in Saint Petersburg, Russia next.
US firm Clairvoyant Energy and France's Veolia Environment will build, own and operate the rooftop solar installation at Zaragoza.
---

Email this page to a friend


Updated: 2016/06/30
If you speak another language fluently and you liked this page, make a contribution by translating it! For additional translations check out FreeTranslation.com (Voor vertaling van Engels tot Nederlands) (For oversettelse fra Engelsk til Norsk)
(Для дополнительных переводов проверяют FreeTranslation.com )