Commissioning underway on Crescent Dunes CSP plant
Feb 13, 2014 - Ben Willis - PV-tech.org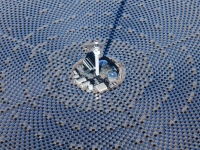 Commissioning has begun on Crescent Dunes, a concentrated solar power (CSP) project in the US claimed to be the largest of its kind in the world with molten salt storage capability.
Developer SolarReserve said the commissioning of its 110MW Crescent Dunes project near Tonopah, Nevada, marked the first step towards bringing the project into full commercial operation, which is scheduled for later this year.
SolarReserve said the project has five times the capacity output of pilot projects that have tested this technology.
It said the storage technology means the plant can operate without the need for any back-up generation from fossil fuel-powered facilities and provide power on demand. Unlike other tower systems, it uses a dry cooling system that saves on scarce water resources.
The commissioning phase will include system-by-system verification and start-up, as well as equipment calibration and testing. 
SolarReserve said commissioning activities underway at Crescent Dunes include energisation of the utility interconnection system and other electrical systems, as well as the first stages of testing and calibration of the heliostat field – the array of mirrors that track and concentrate the sun's energy on to the molten salt tower, which produces super-heated steam.
"Start of commissioning of the Crescent Dunes solar power plant marks a critical milestone for the project as well as the solar industry. We are now able to build utility-scale power plants, fuelled only by the sun, which operate on-demand, day and night, just like traditional fossil fuel or nuclear power plants," said SolarReserve's CEO Kevin Smith.
"SolarReserve's industry-leading solar thermal energy storage technology solves the intermittency issue that limits the use of other renewable energy projects and thus enables firm, reliable delivery of electricity whether or not the sun is shining or the wind is blowing."
When complete, SolarReserve expects Crescent Dunes to generate 500,000MWh of electricity annually.

Email this page to a friend


Updated: 2003/07/28