Greece reaches over 1GW of installed capacity in December 2012
Jan 30, 2013 - Nilima Choudhury- PV-tech.org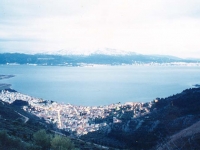 Installations from 20kWp to 150kWp were the most popular in Greece with 76.670kWp, located in Peloponnese, installed in December. Image: quapan
Greek grid operator, Hellenic Transmission, has announced the country installed 1.126GW of solar PV capacity, while rooftop capacity was 298MW in December 2012. 
Despite the ongoing economic and political turmoil in Greece, the country has experienced a 7% increase in installed PV capacity since November.
Installations from 20kWp to 150kWp were the most popular in Greece with 76.670kWp, located in Peloponnese, installed in December.
Finally, 298MW of rooftop solar (<10kW) was installed in December, an increase of 5% since November and 195% since January 2012.
---

Email this page to a friend


Updated: 2003/07/28