Ascent Solar tops 14% CIGS cell efficiency, averages 10.5%-plus on modules; signs deal with FTL
Oct 22, 2009 - Tom Cheyney - PV-tech.org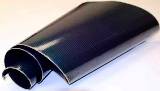 The U.S. National Renewable Energy Laboratory has validated conversion efficiencies of 14.1% for flexible copper-indium-gallium-(di)selenide (CIGS) solar-cell materials produced on Ascent Solar's 1.5MW commercial pilot line in Littleton, CO. The company's internal testing shows active-area peak efficiencies for its full-size monolithically integrated CIGS-on-polyimide modules reaching 11.7%, with median efficiencies on the line averaging between 10.5 and 11%-plus, according to president/CEO Farhad Moghadam.

"The whole center line has shifted," Moghadam told PV-Tech, outlining the significant progress made on median module efficiencies on Ascent's production line over the past year or so. "In November 2008, the center line was at 8%, in July 2009 the line was at 9%, and today in October 2009, the line is at 10.5%. We have accelerated the efficiency enhancement."

Earlier this year, NREL measured peak module efficiencies of up to 10.4% after the company had stated 10% module efficiencies as its goal for 2010, when it plans to ramp up its 30MW volume production line. Ascent now believes it can hit a 12% median mark. In the longer term, the company exec thinks there's enough "headroom to get to 15-16% module efficiency."



Moghadam (pictured at left), who joined the company in early August after a long career in the semiconductor industry, said that Ascent's accelerated efficiency path offers "a tremendous cost-reduction knob" to turn, so that, along with other factors like increased throughputs, more watts can be produced for every dollar invested in capital and operations, eventually allowing the company to reach its goal of manufacturing its thin-film PV modules at <$1 per watt.

"Our nameplate 30MW factory is designed for 10% conversion efficiency, so if we get 15%, that's 50% additional capacity for no additional capex," he pointed out. In the meantime, reaching 12% efficiencies would push the fab's potential output up an additional 20%, to about 36MW.

The production fab is "on track to for the first 15MW in the first half of next year," Moghadam said, "and we expect to exit the year with 30MW." The company is "accelerating pulling in some of those tools for the second half of the year" and expects to have its entire set of laminators and other back-end equipment in place by the end of this year.

In other news, Ascent said that it will be providing modules to FTL Solar for that company's R&D contract with the New York State Energy Research and Development Authority (NYSERDA). The parties will work on the development of FTL's lightweight, flexible tensile structures integrated with Ascent's CIGS panels.

Expressing his confidence in Ascent's flexible PV, FTL CTO Robert Lerner believes that "they will work well with our existing products as well as future products currently in our product development pipeline." FTL currently uses flexible amorphous-silicon TFPV laminates from PowerFilm and Uni-Solar in its multipurpose structures.

NYSERDA president/CEO Francis Murray said that the development authority will "invest $250,000 toward this $500,000 FTL project that is developing a unique product with so many real-world, right-now applications. Because of its physical attributes and application flexibility, shade and electricity can be realized just about anywhere."

The development work will be carried out under a $22,500 collaborative agreement between FTL Solar and the Center for Advanced Microelectronic Manufacturing (CAMM) in Endicott, and the Center for Autonomous Solar at Binghamton University.
---

Email this page to a friend


Updated: 2003/07/28