Intel outside: Chipmaker moves to install more PV power systems, equipped with First Solar modules
Jan 29, 2010 - Tom Cheyney - PV-tech.org
Intel likes to talk the green talk and walk it too with ever-smaller carbon footprints, buying copious amounts of renewable energy credits, investing millions of dollars in cleantech startups through its development fund, spinning off solar cell start-up Spectrawatt, and researching organic photovoltaics in its labs.

The microprocessor mavens will soon increase their own direct use of solar energy, having recently announced plans for eight PV systems, collectively capable of generating about 2.5MW of electricity, to be built on several sites in the western United States. Some additional digging reveals a few new details about Intel's latest PV projects, including the brand of modules to be deployed—First Solar.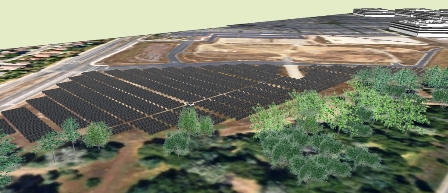 In an email interview conducted via an intermediary at Intel's PR agency, the company's director of global utilities and infrastructure, Marty Sedler, told me that the modules to be used will be "mostly First Solar." He explained the "mostly" part, noting "there may be an exception at one location depending on roof structural capacity."

As for the inverters of choice, Satcon gets the nod, "with the possible exception at one location due to better availability/sizing," he said. "The final decisions will be made in the coming week based on final roof analysis." No word on which roof is being analyzed nor which Satcon models will be used.

Since all but one of the systems will be fixed rooftop arrays, some of the key design considerations "have been roof structural engineering evaluations of weight capability, penetration vs. nonpenetrating, and seismic calculations," he said.

Which integrator/installer will be charged with designing, engineering, and constructing the systems? Solar City, according to Sedler, which will use its Solar Guard monitoring gear to watch over the Intel assets. (I tried to get the SolCity crew to comment for the blog, but they deferred to the customer.)

The eight installations—ranging in size from approximately 100KW to 1MW (and those figures, per Sedler, represent the DC not the AC ratings, unlike most First Solar-energized projects)—will be spread across six Intel locations in four states: Oregon, California, Arizona, and New Mexico. Quoting directly from the official press release, Sedler noted that "each project would currently rank as one of the 10 largest solar installations in its respective region if activated today."

The largest PV power plant, located in Folsom, CA (cue Johnny Cash song here and see Googlish rendition above), will span six acres and be the only ground-mount system in the fleet (and one of the largest nonutility PV installations of its kind, according to Intel).
The only site benefitting from more than one system will be the Hillsboro, OR, neck of the woods, which will see three PV arrays (on yet-to-be-determined roofs) plugged in to go along with the existing 100KW plant at the company's Jones Farm campus in 2009 (also installed by Solar City).

Construction has already begun on the two Arizona sites in Chandler (see Googlish image below) and Ocotillo, with the projected completion date in April, said Sedler. The rest of the installations are due to be finished by July, although he stipulated that the "construction timetable is heavily dependent on weather conditions."

Intel in classic Intel fashion won't discuss the monetary aspects of the projects or who will actually own the PV systems (PPA? lease? direct ownership?)—"we're not commenting on the cost of these solar installations" and "we are not disclosing any contractual terms" were the company director's replies to my queries.

But we're not talking a humongous investment, at least by Intel standards: A back-of-the-envelope guestimate puts the total cost of the project somewhere in the high seven-figure/low eight-figure range.
Sedler did share that the company plans to take advantage of the lucrative government goodies and other subsidies available in the sector (which would likely push that price tag down into seven figures): "The projects will participate in any available incentive standard offered at the federal and state levels, as well as any utility-offered programs."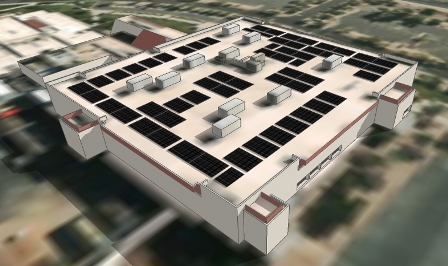 The choice of First Solar modules for the Intel projects is interesting on a number of levels. Intel, the 800-lb gorilla of silicon semiconductors, goes with First, the similarly sized simian of the thin-film photovoltaics world (although its cadmium-telluride panels absorb those photons with nary a silicon molecule in sight).

You don't have to go very far to find former Intellians at First Solar either, starting with the PV company's president, Bruce Sohn, who once managed Intel's first 300mm production facility, Fab 11X in Rio Rancho, NM. I did find out that although one of the project's solar power systems will be deployed there, it will be providing juice to an office building, not the chip fab where Sohn used to work.

(No comments about the Intel project from First--mums the word since it's the "quiet period" before the company announces its quarterly/annual earnings.)

Let's not forget the First Solar-Solar City connection either. The panel manufacturer/project developer has an equity stake in the fast-growing integrator, which also happens to be a key channel partner for putting those jet-black CdTe modules on residential and commercial rooftops (the smaller jobs that utility-scale-minded First can't be bothered to install itself).

There's no doubt that Intel will continue to increase its commitment to solar energy and further lighten its carbon load. The company "continues to look for sustainability opportunities across its dispersed locations," Sedler wrote in the email. "Additional international solar project evaluations are completed and under final evaluation."

"These programs will contribute to Intel's ongoing efforts to increase energy efficiency of its operations and products and demonstrate support/leadership for renewable technology growth," he boilerplated.

Not all the solar activities at Intel are on the outside of its buildings. In an upcoming blog on some organic photovoltaics research going on inside Intel's labs, I'll catch up with Yuri Sylvester, who is patterning metal-grids for use as transparent electrodes, fashioning inorganic templates to help control film thickness and surface roughness, and devising other ingenious methods to foster the development of next-gen, low-cost, scalable, large-area OPV devices.
---

Email this page to a friend


Updated: 2003/07/28