Tunisia adheres to "Desertec" project
Nov 26, 2009 - Tunisia Online News
An international conference on " Desert Friendly Energy as a Challenge for Regional Cooperation and the Union For the Mediterranean" as part of the "Desertec" project to develop solar energy in southern Mediterranean countries, was held on Monday in Gammarth north of Tunis.
Organized by the German Konrad Adenauer Foundation, in collaboration with the Tunisian Industry Commerce and Handicrafts Union (UTICA)'s Junior Managers and the Club of Rome, German, Tunisian and Moroccan experts took part in the meeting.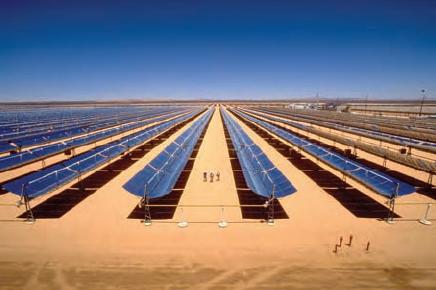 According to the Chairman of the Club of Rome, Mr. Maw Schoen, the "Desertec" project, which was launched last July by the Desertec foundation, aims at creating an inter-connected energy network supplied by solar power plants from Morocco to Saudi Arabia.
He stressed the importance of boosting energy co-operation between countries surrounding the Mediterranean, through the implementation of concrete projects to fight against climate change and renewable energy production.
The Director-General of National Energy Saving Agency (ANME) Mr. Ben Aissa Ayadi expressed Tunisia's total adherence to the "Desertec" project, adding that several sites have been identified for the setting up of thermo-solar plants.
As far as the Tunisian solar plan is concerned, Mr. Ayadi stressed that the cost of this project, which covers the 2010/2016 period, is estimated at 4 billion dinars. It includes 40 projects, 17 which are dedicated to water heating, refrigerating activities, drying of products, and the development of solar energy power production as well as 3 wind energy projects.
In addition, he added that, a small 25 Megawatt-power plant (pilot project) carried out by the Tunisian Electricity and Gas Company (STEG) will be operational in 2013.
"Desertec" project aims at building several thousand square meters of solar power plants throughout the Sahara desert, including Tunisia, Libya, Algeria and Morocco. The technology used is based on thermal solar energy, part of which will be exported to European countries.
---

Email this page to a friend


Updated: 2003/07/28