Tidal barrage moves a step closer
May 23, 2007 - BBC
Plans for a £14bn barrage that would harness the tidal energy of the Severn estuary have taken a step forward.
UK Trade Secretary Alistair Darling said tidal power was "in its infancy" but the government wanted to encourage its development.
Stretching from south of Cardiff to Weston-super-Mare in Somerset, the barrage could supply 5% of the UK's electricity, according to supporters.
But some environmentalists fear its impact on wildlife and their habitats.
The energy white paper was published in a statement by Mr Darling in the Commons on Wednesday.
He said that he wanted to encourage tidal power but acknowledged that there were environmental hurdles to overcome.
Mr Darling said that the government needed to weigh-up the impact a barrage might have on the environment with the impact further carbon emissions would have on that environment.
"I think one of the environmental issues that has not yet been properly addressed is the balance to be struck between the impact on say, the River Severn, and the environmental gain that would come from not putting more and more carbon into the atmosphere," he said.
The 10-mile (16km) barrage has been mooted in different forms since it was first proposed in 1849, according to Roger Falconer, professor of hydro-environmental engineering at Cardiff University.
Severn Barrage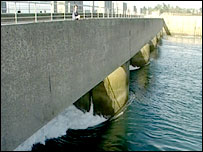 The barrage would be 16km (10 miles) long
It would power more than 200 turbines
Planners say it could create 35,000 construction jobs and between 10,000 and 40,000 permanent jobs
The barrage could be generating electricity within 11 years, say planners
In 1981, the first major study of the environmental impact of such a scheme was carried out with further research in 1989, he said.
Last week, 24 MPs signed an early day motion calling on the government to urgently reappraise the idea.
The current Severn tidal barrage proposal would stretch across the Bristol Channel from Lavernock Point near Penarth to Brean Down near Weston-Super-Mare.
"They have always been looking for ways to produce energy," said Professor Falconer.
"With recent issues such as renewable energy and commitment to the Kyoto (Protocol), it is much more of a concern."
Welsh Secretary Peter Hain welcomed the announcement and said "full consideration" would be given to Welsh interests and concerns before any proposals were taken forward.
He said: "With the huge threat of climate change, it is only through clean, green alternatives, from household solar panels to large-scale schemes such as the Severn barrage, that we can make the necessary reductions in our carbon emissions."
The barrage would work similarly to a dam, he explained, which generates hydro electric power by holding water back before it is allowed to flow at speed through a pipe at the base of the dam to drive the turbines.
How Tide Power Works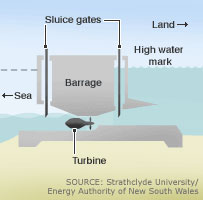 As tide comes in, sea water passes through barrage to landward side
At high tide, sluice gates shut, trapping water in estuary or basin
When tide recedes on sea-side of barrage, sluice gates open
Water flows through barrage, driving turbines and generating power
Power can be generated in both directions, but this can affect efficiency and economics of project
As well as powering around 200 turbines, the barrage would feature "sluices" which allow water to go one way or another and locks to let ships pass.
The site is attractive for the project because it has the second highest tidal range in the world, behind the Bay of Fundy in Canada.
"There has been a big change in public opinion," said Professor Falconer. "I'm not saying it will be built but the case for further studies is a strong one. I think we will see a major reappraisal of this project."
Roger Hull, spokesman for the Severn Tidal Power Group which is promoting the proposal, said much had changed since the studies of the 1980s and it was time the barrage was "thought about again".
"Prices of fossil fuels have gone up, the environment has changed, legislation has changed, the way we sell electricity has changed and the security of supply is a bigger issue," he said.
While the barrage would change the local environment and certain birds would probably have to move elsewhere, he said, positive environmental impacts would include saving on greenhouse gas emissions and increased flood protection.
A transport link across the top of the barrage would be another benefit for the south West of England and south Wales, he added.
---

Email this page to a friend


Updated: 2003/07/28