First U.S. hydrokinetic project begins commercial operations
Aug 26, 2009 - EERE News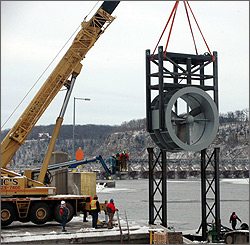 Hydro Green Energy delivered its hydrokinetic turbine to Hastings, Minnesota, in December 2008. The barge-mounted power plant is now parked in the output of Mississippi Lock and Dam No. 2, which is visible in the background.
Credit: Mark R. Stover, Hydro Green Energy
The first federally licensed in-stream hydrokinetic power project in the United States began operating commercially on August 20 on the Mississippi River in Hastings, Minnesota. Hydrokinetic projects produce power from moving water without the use of a dam, and they include wave energy systems and in-stream turbines, which can capture the energy from tidal flows or the flow of a river. The Hastings project, an in-stream turbine from Hydro Green Energy, captures the flow from the output channel of an existing hydropower dam.
The turbine, anchored downstream from the dam on a tethered barge, has a nameplate capacity of 100 kilowatts, and an expected output of about 35 kilowatts. After approval of the project by the Federal Energy Regulatory Commission (FERC) last December, the turbine was quickly installed on the barge and has been undergoing testing since mid-February. The turbine was evaluated for its impact on fish in the river, and an environmental research firm's pre-installation model estimated that 97.5% of fish passing through the turbine would survive the journey. Actual results of a June test, not yet publicly released, were higher, the company says. A second turbine with increased power and efficiency is slated to come online next spring. See the Hydro Green Energy press release (PDF 310 KB). Download Adobe Reader.
Hydrokinetic power is also making waves in Maine, which has become the first East Coast state to sign a Memorandum of Understanding (MOU) with FERC relating to the energy source. Maine agreed on August 19 to coordinate with the federal commission on tidal power projects off its coast. The MOU establishes Maine's support of FERC's procedures for a short-term license for experimental pilot projects. FERC and Maine also agreed to notify each other of proposed tidal energy projects and will work together to identify potential issues and to set a schedule to process permit applications. FERC had previously signed similar hydrokinetic agreements with the states of Oregon and Washington. See the FERC press release and the full MOU (PDF 370 KB).
---

Email this page to a friend


Updated: 2016/06/30
If you speak another language fluently and you liked this page, make a contribution by translating it! For additional translations check out FreeTranslation.com (Voor vertaling van Engels tot Nederlands) (For oversettelse fra Engelsk til Norsk)
(Для дополнительных переводов проверяют FreeTranslation.com )