Integrating Wind in the Southwest
Mar 18, 2010 - Bill Opalka - renewablesbiz.com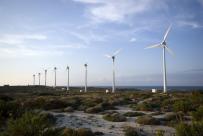 States in the Southwest Power Pool (SPP) region can reliably obtain 40 percent of their electricity from wind energy, incurring only minor costs associated with operating the power system differently than it currently operates.
That's according to a wind integration study by the National Renewable Energy Laboratory. The study examined how the power system would operate with 10 percent, 20 percent and 40 percent of the electricity supplied by wind energy in the SPP region. That region includes all of Kansas and Oklahoma, most of Nebraska and parts of New Mexico, Texas, Louisiana, Missouri, Mississippi and Arkansas.
A 40 percent wind energy penetration is one of the highest levels studied thus far, in the United States or anywhere in the world.
"This study corroborates what we've learned from around a dozen other wind integration studies and tens of thousands of hours of real-world, grid-operating experience: wind energy is a very effective tool for reducing carbon emissions and large amounts of wind energy can be reliably integrated onto the grid at low cost," said American Wind Energy Association Senior Vice President for Public Policy Rob Gramlich.
The study also found that the cost of operating the power system differently to accommodate wind energy was modest. Integration costs varied depending on the methodology used to account for the costs. One method found costs ranging from $1.39 per megawatt-hour of wind energy in the 10 percent wind case up to $1.68 per megawatt-hour of wind energy in the 40 percent case.
Another method was applied only to the 10 percent and 20 percent wind cases and found costs of $1.92 per megawatt-hour in the 10 percent case and $3.11 in the 20 percent case. A third found costs of $3.21 per megawatt-hour in the 10 percent case and $4.29 per megawatt-hour in the 20 percent case.
The editorial staff at RenewablesBiz.com is passionate about exchanging ideas and dedicated to promoting ongoing conversation about renewables and sustainable energy issues. We invite you to join and contribute to our online community. If you have an idea for an article or editorial contribution, please contact me via email, bopalka@energycentral.com, or phone, 860.633.0090.
---

Email this page to a friend


Updated: 2016/06/30
If you speak another language fluently and you liked this page, make a contribution by translating it! For additional translations check out FreeTranslation.com (Voor vertaling van Engels tot Nederlands) (For oversettelse fra Engelsk til Norsk)
(Для дополнительных переводов проверяют FreeTranslation.com )