West Texas wind power waits for power lines
Jul 25, 2009 - Jason Whitley - WFAA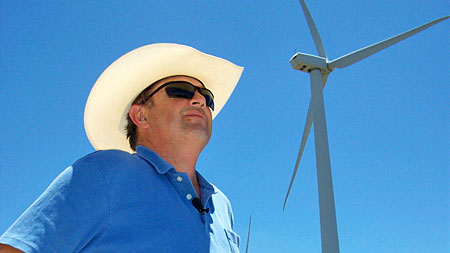 Jason Whitely / WFAA-TV

Johnny Ussery has 28 wind turbines on his ranch south of Sweetwater.
SWEETWATER, Texas — For decades, the census brought bad news to Sweetwater. The population of this West Texas town about 40 miles west of Abilene had been sliding since the sixties.
Then came the wind.
"I really sense, if you talk to our school district, that our population kind of hit bottom and really started to increase again," said Ken Becker, executive director of the Sweetwater Enterprise for Economic Development. "So things are really on the upswing."
You don't have to look far to see why. Tall, gleaming wind turbines now dot the horizon in all directions.
"I won't say it saved Sweetwater, but it sure took it up a big notch," Becker said.
Twenty percent of the community's population now works with wind.
Johnny Ussery has 28 wind turbines — one every hundred acres — on his ranch south of town. His father saw it coming.
"My dad told me many years ago, he said, 'Son, if we could just figure out how to make a dollar off this wind, we'd be in good shape.'"
Ussery now counts on the wind to pay the bills. "My income is directly tied to how much these turbines turn," he said.
And that's the problem.
Nolan County's 1,200 wind turbines sit idle one-third of the time, sometimes longer.
There's plenty of wind — just not enough transmission lines to get the green power to the grid.
That means consumers pay more and Ussery makes less.
"You know, if we can't get this wind, this energy to Dallas/Fort Worth, Houston, Austin — where the routing is — we're in trouble," he said. "It's not different than taking a trailer load of cows to the stockyard. If you can't get them there, you're in trouble."
One rancher said it's like building a Maserati and not having any keys to drive it.
The state figures about $5 billion in new transmission lines are needed. Dallas based Oncor is leading the way, spending more than a billion dollars on a plan to build 1,800 new transmission towers and stringing 850 miles of new power lines over the next three-and-a-half years.
The state says Texas' growing population needs the clean electricity, and many hope the wind energy will even create surplus power if those turbines can turn around the clock.
"When you increase the supply of electricity, the laws of supply and demand say that that will help customers' bottom line," said Oncor spokeswoman Catherine Cuellar.
Texans will likely pay $3 to $4 a month over a decade to reimburse Oncor for its investment. The utility company says it plans to apply for stimulus money to reduce that charge.
Once the extra lines are energized, experts expect a thousand more wind turbines will be built in Sweetwater. And that's a good thing for Johnny Ussery and for the rest of us.
"Coal plants don't have to run as hard. Natural gas plants don't have to run as hard. We don't have to put as many pollutants up in the air," he said.
According to Ussery, the wind kept his family's 110-year-old ranch out of bankruptcy. Contracts won't let him reveal how much he makes, though.
"You know, I'm not a millionaire; that's not the story of the wind energy business," he said, adding, "I'm financially more stable."
And so is Sweetwater.
Railroads built this town; the wind is saving it.
E-mail jwhitely@wfaa.com
---

Email this page to a friend


Updated: 2016/06/30
If you speak another language fluently and you liked this page, make a contribution by translating it! For additional translations check out FreeTranslation.com (Voor vertaling van Engels tot Nederlands) (For oversettelse fra Engelsk til Norsk)
(Для дополнительных переводов проверяют FreeTranslation.com )