Wind and natural gas: frenemies forever
Aug 18, 2009 - Russell Gold - The Wall Street Journal

Is natural gas a friend to – or foe of – renewable energy?
Earlier this month, at the big clean energy summit in Las Vegas, a parade of dignitaries praised natural gas for generating electricity with about half the carbon emissions as coal. And Energy Secretary Steven Chu called T. Boone Pickens's plan to use wind and natural gas to displace coal a transition to a renewable energy future.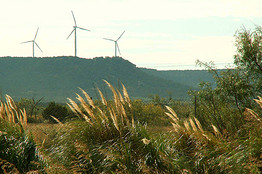 Nary a jackalope in sight.
But it's not clear that wind and gas interests will coexist peacefully. That thought sprang to mind while reading a noteworthy report on Texas wind generation issued earlier this week by Houston-based energy investment bank Tudor Pickering Holt & Co.
Texas gets a higher proportion of its electricity from wind and gas than the nation as a whole. And the wind just keeps on coming: Texas has about 8,000 megawatts of wind power capacity right now (which generates about 5% of the Lone Star State's electricity). By 2013, that should rise to about 18,500 megawatts (and 15%).
Here's the bottom line. Without this wind build-out, Texas would slowly increase its gas consumption for power generation from 3.2 billion cubic feet a day to 3.3 bcf a day by 2013. But with the wind, that 2013 gas consumption figure falls to 2.7 bcf a day. That's a drop of 600 million cubic feet a day; using yesterday's anemic $3.16 price, that means the Texas power sector will be spending $1.9 million less on natural gas – every day.
What about the entire country? Looking ahead to 2020, wind power could knock out 6.9 billion cubic feet a day of gas consumption by the power sector – about $21.8 million worth of gas daily.
Are the people who are spending a lot to find and develop new gas fields really going to be that keen on the wind-power industry, which is taking away demand for its product? Moreover, Texas wind is already driving down power prices, putting the squeeze on profits by power producers.
This raises some interesting questions. NRG Energy and Calpine both derive a significant chunk of their earning from Texas power generation. So does Energy Futures Holdings – the new name for the now-privatized TXU. Together, these three companies have about 18,900 megawatts of gas-powered generation capacity in Texas. And zero wind power. NRG has 122 megawatts of wind power, according to the Tudor Pickering report, and a spokeswoman says it will have 345 megawatts of wind capacity once construction on a new farm is completed this year.
If wind power erodes the earning power of these guys, how will they respond? And will they find allies in gas producers such as Chesapeake Energy, XTO and even ConocoPhillips?
So, while natural gas can be a bridge to a renewable-energy future, it behooves policy makers and investors to remember that the gas interests and the wind interests don't always line up.
In Texas, only one company has a lot of both gas-powered generation and wind power. That's FPL Group and their Nextera Energy subsidiary. Everyone else lines up on one side or the other.
---

Email this page to a friend


Updated: 2016/06/30
If you speak another language fluently and you liked this page, make a contribution by translating it! For additional translations check out FreeTranslation.com (Voor vertaling van Engels tot Nederlands) (For oversettelse fra Engelsk til Norsk)
(Для дополнительных переводов проверяют FreeTranslation.com )