Superconductor cable gets energized on Long Island
April 30, 2008 - David Ehrlich -Cleantech Group
American Superconductor said it's the longest high temperature superconductor cable that's ever been installed.
A piece of Long Island, N.Y.'s power grid has received an upgrade, with Devens, Mass.-based American Superconductor (Nasdaq: AMSC) announcing today that a section of high temperature superconductor cable was installed at a major interconnection point in the system.
The 2,000-foot long cable, made with wire produced by American Superconductor, is the longest installation of high temperature superconductor, or HTS, cable in the world, according to the company, and the only HTS installation running at transmission voltage.
The Long Island Power Authority has already flipped the switch on the 138,000 volt system, installed in Holbrook, which is able to handle 574 megawatts of power, according to American Superconductor.
"The entire power output of a traditional coal-fired or gas-fired or nuclear power plant could flow through this one cable," Jack McCall, director of business development for HTS transmission and distribution systems at American Superconductor, told Cleantech.com.
American Superconductor said the U.S. Department of Energy provided almost half of the $58.5 million funding for the grid project.
Paris-based Nexans designed, manufactured and installed the cable system, with Air Liquide, also headquartered in Paris, supplying a liquid nitrogen refrigeration system for the cable.
American Superconductor said the cable system, which consists of three individual HTS cables running in parallel, contains hair-thin, ribbon-shaped HTS wires that can conduct 150 times the electricity of similar sized copper wires, using much lower voltage than copper.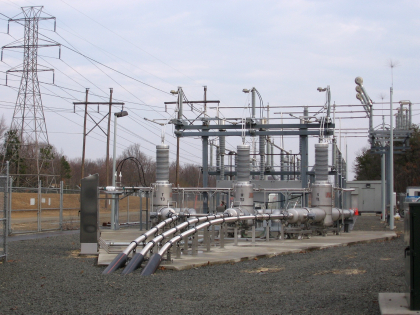 The future of the grid goes underground.
Take a look at the cables entering the ground here:
"Where before a utility might have to install, let's say a 500 kV line, they might only have to put in a 138 kV line. Or if they needed a 138 kV line, they could put in a 15 kV line," said McCall.
It could be much easier for utilities to get approval for installing smaller HTS cables, which can be buried underground, especially in densely populated cities.
The HTS cables also have very low impedance, which means they have very low resistance to the electrical power flowing through them.
"They actually attract electrical power from other, parallel power lines. So essentially, they'll draw power away from other power lines, so that the power will flow through this cable," McCall said.
"Therefore it reduces grid congestion, and also reduces any overloading that might be occurring on other power paths."
New York state is becoming a hub of HTS activity, with Schenectady, N.Y.-based SuperPower adding second-generation HTS cables to a project in Albany earlier this year (see SuperPower tests next generation cable on N.Y. grid).
Originally installed and energized in July 2006 with first generation HTS wire, a 30-meter section was reconnected in February using second-generation wire from SuperPower, a subsidiary of the Netherlands' Royal Philips Electronics (NYSE: PHG).
And American Superconductor is leading project Hydra in New York City.
In January, the U.S. Department of Homeland Security handed out more funding for the program, which is designed to protect the grid from severe weather, accidents or terrorist attacks (see AMSC's HYDRA snaps up $25M more from DHS).
"In Hydra, we've also found a way to make the wire such that when there is an electrical fault in the power grid, that the wire actually switches from being a very low resistance wire to being extremely high resistance, just by the nature of the chemistry of the wire itself," said McCall.
He said the new wires limit power surges, or fault currents, allowing the local utility to interconnect substations within the city in a way that it's never been able to do before, increasing the reliability of the network.
The Long Island system is already slated to get an upgrade to the second-generation HTS wire, with American Superconductor again leading the project.
The timeline on that upgrade has not yet been set.
McCall said the HTS installation in Holbrook is actually bypassing the utility's more traditional transmission line that acts as the main spine for carrying power up and down Long Island.
"This is not a test application, this is actually a live part of their power grid, and actually one of the most critical parts of their power grid."
He said the installation, as well as the Long Island Power Authority's plans to consider HTS cables for all of its upcoming power projects, could help move the adoption of the technology forward.
"It really legitimizes this technology to a large degree and I think will encourage other utilities to say, 'Hey, you know what? We need to really start looking at this technology as well."
Email this page to a friend


Updated: 2016/06/30
If you speak another language fluently and you liked this page, make a contribution by translating it! For additional translations check out FreeTranslation.com (Voor vertaling van Engels tot Nederlands) (For oversettelse fra Engelsk til Norsk)
(Для дополнительных переводов проверяют FreeTranslation.com )