Energy question of the week: How is electrical power carried across the sea?
Apr 13, 2010 - Jan Oliver Loefken - dlr.de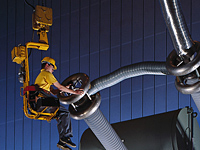 Two trends are emerging for future renewable electricity. In the first, local solar, wind or biomass plants will produce more energy for small communities or single homes. In the second, large amounts of electricity will be generated by solar power stations in desert areas or extensive offshore wind farms, and delivered over long distances to densely populated areas. But how can electrical power be delivered over long distances without large losses?

The solution to this problem is direct current. When electrical power at voltages from 100,000 to 1,000,000 volts is routed through high-voltage direct current (HVDC) transmission cables, energy losses are significantly reduced. Conventional AC or three-phase cables lose around 15 percent of transmitted power over a distance of 1000 kilometres, while HDVC cables lose only 3 to 4 percent of their load. Since DC cables can be insulated better than AC cables, HVDC is also ideal for short-distance delivery over undersea as well as underground cables.
Good experiences with direct current
There are now numerous HVDC cables around the world. The most powerful one, at 6300 megawatts and 600,000 volts, transports power from the Itaipu hydroelectric plant on the Brazil-Paraguay border to Sao Paulo and Rio de Janeiro. In China, a 800,000 volt cable will be commissioned this year to bridge the 1418 kilometres between the provinces of Guangdong and Yunnan. In Europe there are no overground HVDC cables, but the NorNed undersea cable between Norway and Holland and the Baltic Cable between Norway and Germany both employ HVDC technology.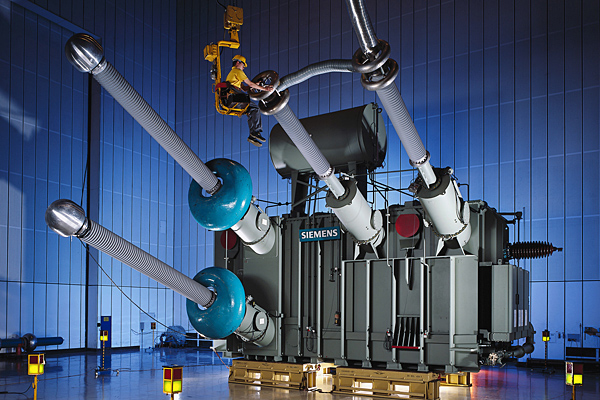 HVDC power transformer on the Australia – Tasmania cable. Image: Siemens.
Three large companies share the growing HVDC market: Siemens, ABB and Areva. When the desert-based energy project, DESERTEC - which DLR researchers are playing a major role in designing and planning - is built, there will be more contracts for them. In the future, an HVDC cable, more than 3000-kilometres long, could run from solar power plants in the Sahara, under the Mediterranean, to Central Europe. In addition, Europe could be supplied with electricity from wind farms off the Scandinavian or North African coasts through HVDC cables.
Careful grid planning
HVDC cables also have their disadvantages. They are more expensive than conventional three-phase cables and are designed to carry power between only two points. Careful advanced planning of the trans-European grid is thus necessary, to avoid difficult installation of additional feeds at a later date.
The DLR Energy question of the week in 'The future of energy' Year of Science
The Federal Ministry of Education and Research (BMBF) has given the Year of Science 2010 the motto 'The future of energy'. For this reason the science journalist Jan Oliver Löfken will this year answer a question on the subject of energy in his blog each week. Do you have a question about how our energy supply might look in the future? Or do you want to know, for example, how a wave power plant works and how it can efficiently generate electricity? Then send us your question by email. Science journalist Jan Oliver Löfken will investigate the answers and publish them each week in this blog.
---

Email this page to a friend


Updated: 2016/06/30
If you speak another language fluently and you liked this page, make a contribution by translating it! For additional translations check out FreeTranslation.com (Voor vertaling van Engels tot Nederlands) (For oversettelse fra Engelsk til Norsk)
(Для дополнительных переводов проверяют FreeTranslation.com )