Russia To Export Electricity To Lithuania While Nuclear Power Plant Repaired
Aug 20, 2007 - RIA Novosti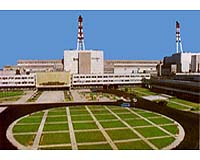 The gnalina nuclear power plant
Russia will supply up to 1,000 megawatts of electricity to Lithuania while the Ignalina nuclear power plant is being repaired, electricity monopoly Unified Energy System (UES) said Friday. European Union member Lithuania is to shut down the second reactor of its Ignalina NPP by late 2009, in line with EU nuclear safety requirements, and to build a new plant of about the same capacity of 3,600 MW by 2015, a project expected to cost $3-4 billion.
"Lithuania has requested that Russia deliver electricity while routine repairs are carried out at the Ignalina nuclear power plant," said Margarita Nagoga, a spokeswoman for UES.
She also said that "should Lithuania stop the NPP in wintertime, Russia would have been unable to export electricity."
In this regard, she stressed the importance of building the second power unit at Russia's Kaliningrad Thermoelectric Power Plant.
Under pressure from European countries, Lithuania decommissioned the Ignalina NPP's first power-generating unit in 2004. The decision made the Lithuanian energy sector more dependent on Russian natural gas supplies.
The country could have run the NPP much longer, with the first and second units being operational until 2008 and 2032, respectively.
The Ignalina NPP is similar to the one in Chernobyl, Ukraine, the scene of the world's worst nuclear accident in 1986. Source: RIA Novosti
Email this page to a friend


Updated: 2016/06/30
If you speak another language fluently and you liked this page, make a contribution by translating it! For additional translations check out FreeTranslation.com (Voor vertaling van Engels tot Nederlands) (For oversettelse fra Engelsk til Norsk)
(Для дополнительных переводов проверяют FreeTranslation.com )