Growing wind, solar power challenge US grid - study
Apr 17, 2009 - Eileen O'Grady- Reuters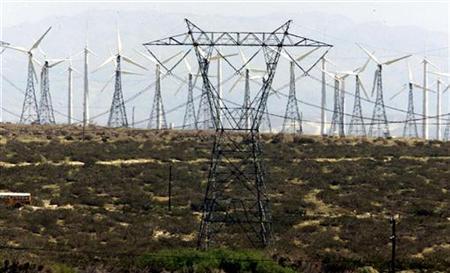 A group of wind turbines generate electricity behind an electric power transmission line near Palm Springs, California, April 5, 2001.
Photo: Fred Prouser
HOUSTON - The push to add more renewable wind and solar megawatts to the US electric mix will force changes in the way the power grid operates to keep electricity flowing reliably, said an industry watchdog Thursday.
Climate-change concerns have led more than half of US states to mandate that a percentage of future electric supply come from less-polluting resources, such as wind and solar power that emit no greenhouse gas.
US legislators are also discussing a federal mandate.
However, a report from the North American Electric Reliability Corp (NERC) issued Thursday points out that many types of renewable power are much different from power plants that burn coal or natural gas, plants that can be turned off and on as needed to meet power demand.
That lack of control, or variability, creates thorny integration issues for operators of the bulk-power network - the large power lines that move electricity from plants to neighbourhoods, NERC said.
The push for more renewable power, "has the potential to fundamentally change how the system is planned, operated and used - from the grid operator right down to the customer," said Rick Sergel, NERC president.
In 2008, a record 8,300 MW of wind generation was installed in the United States, according to the wind industry. NERC estimates that 145,000 MW of all types of variable generation could be added to grid in the next 10 years.
"Even if only half of this capacity comes into service, it will represent a 350 percent increase of variable power from 2008," said Mark Lauby, a NERC director.
Already recognised is the need for thousands of miles of new transmission lines to connect distant wind and solar facilities to power-hungry cities. About 7 percent of the US population lives in the 10 states where the capacity for wind generation is the greatest, the grid group said.
While daunting, that is just one challenge facing the industry as it seeks to reduce carbon dioxide emissions from electric production, NERC said.
Another issue is the tendency for wind generation to be strongest at night when electric demand is low and weak during the day when power use soars.
Managing the often rapid jump or drop in wind output is another obstacle for other power plants on the grid since electricity is consumed in real-time and can't be stored in large amounts, NERC said.
If electric demand is high and wind generation falls off, other power plants must increase output quickly to balance the system to prevent blackouts or other disruption.
NERC's study calls for reducing obstacles to build power lines. Other recommendations include better wind forecasting and spreading variable resources across large geographic areas to lessen the impact of weather changes on output.
NERC's recommendations may fall short of some renewable power industry goals. Some want new transmission lines to be dedicated to "renewable-only" generation and have suggested that NERC relax some long-standing operating standards related to grid frequency.
Lauby, however, said the NERC study calls for wind and solar generation to be integrated within NERC's current operating requirements.
(Editing by Lisa Shumaker)

Email this page to a friend


Updated: 2016/06/30
If you speak another language fluently and you liked this page, make a contribution by translating it! For additional translations check out FreeTranslation.com (Voor vertaling van Engels tot Nederlands) (For oversettelse fra Engelsk til Norsk)
(Для дополнительных переводов проверяют FreeTranslation.com )