Gulf states near deal on regional power grid
Oct 26, 2008 - Stanley Carvalho - arabianbusiness.com - Reuters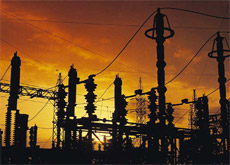 POWER DEAL: Gulf Arab states are expected to sign an agreement for a regional electricity grid and power trading. (Getty Images)
Gulf Arab states are expected to sign an agreement next month to pave the way for a regional electricity grid and power trading to cope with rising demand, the chairman of the managing company said on Sunday.
Electricity ministers from the six Gulf states will meet in Qatar in early November to finalise the agreement on the grid, whose first phase is to be launched in early 2009, said Yousef Janahi, chairman of the Gulf Cooperation Council Interconnection Authority.
The authority is a joint stock company owned by the six Arab Gulf states to build and oversee the grid, whose first phase will have a capacity of 1,200 megawatts and cost $1.6 billion, will connect Kuwait, Saudi Arabia, Bahrain and Qatar. Oman and the United Arab Emirates are to be connected in a second phase.
"The agreement is in its final phase and phase one of the grid will become operational in first quarter 2009. Overall, 80 percent of the project work is completed," Janahi told Reuters on the sidelines of a power and water conference in Abu Dhabi.
"Work has already started on phase two and our target is 2010 for full project completion," said Janahi, adding that there were plans later for a pan-Arab electricity grid.
"Interconnection will provide bilateral, multilateral or international power trading. With rising demand for power across the region, the GCC grid will help in getting supply during emergencies," he said, adding that it would also provide opportunities to sell surplus energy.
Moody's Investor Service said in a report this month that the Gulf is likely to see more power shortages and blackouts as regional utilities struggle to deal with fast-rising power demand. Around $50 billion is needed to boost power supply by 60,000 MW in the Gulf through 2015, it said.
The authority is also drawing up agreements on overall policy issues and power exchange and trading and proposed the creation of a regulatory committee, Janahi said.
The project cost is being met by member states in proportion to the benefits they can get from the grid. (Reuters)
Email this page to a friend


Updated: 2016/06/30
If you speak another language fluently and you liked this page, make a contribution by translating it! For additional translations check out FreeTranslation.com (Voor vertaling van Engels tot Nederlands) (For oversettelse fra Engelsk til Norsk)
(Для дополнительных переводов проверяют FreeTranslation.com )