Neighbors hook up electricity markets
Jun 4, 2008 - The Prague Post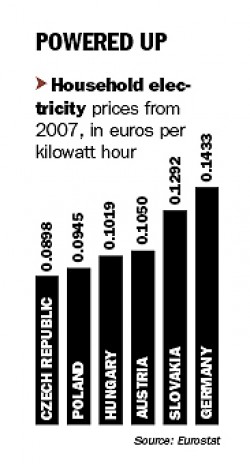 Electricity will soon flow more freely between the Czech Republic and Slovakia.
Industry and Trade Minister Martin Ríman and his Slovak counterpart, Lubomír Jahnátek, signed an agreement May 22 that will create a new single market for electricity between the countries. The move comes as Slovakia has become a net importer of electricity, a commodity the Czech Republic has in spades.
The agreement, which does not need parliamentary approval, could be the start of increased cross-border electricity trading in Central and Eastern Europe, according to Tomáš Bartovský, the Industry and Trade Ministry's spokesman.
The Energy Market Operator (OTE) will set up a new market for short-term cross-border trades by the end of the year. As a result, a unified price for electricity could emerge, though it is also possible that prices will remain different in both countries, the ministry said. OTE is fully owned by the Czech state.
Slovenské elektrárne (SE), Slovakia's largest utility, has already established resale activities in the Czech market, said spokesman Juraj Kopriva. Italy's Enel, one of Europe's largest energy companies, acquired a 66 percent share of SE in 2005; the remainder is state-owned.
It remains SE's goal to sell all electricity generated in Slovakia on the domestic market, Kopriva added. But it's the nature of electricity that it is difficult to store, with demand fluctuating constantly.
"There are situations on the short-term market when we are able to export power to the Czech Republic or Hungary and fulfill domestic demand at the same time," Kopriva said.
In general, Slovakia has become a net importer of electricity since it decommissioned one reactor at the Bohunice nuclear power plant at the end of 2006. The government has suggested building a new nuclear plant to replace it.
"A war for access to energy sources has started — a war for investment opportunities," Slovak Prime Minister Robert Fico told journalists April 24 in Bratislava. "If Slovakia doesn't take part in this — pardon the expression — energy war, it won't finish well," he added.
Kopriva said that SE is interested in finding new electricity capacity to replace what it will lose due to the decommissioning of a second reactor at Bohunice at the end of this year.
SE would prefer that this capacity be built in Slovakia. "[We want] the construction of blocks three and four at the Mochovce nuclear power plant to receive priority," said Kopriva.
The Czech Republic and Slovakia don't have the combined human and technical resources to build two nuclear power plants at the same time, he added. A majority of Czech politicians favor adding two more reactors to the Temelín nuclear plant in south Bohemia, a move opposed by the Green Party.
Kopriva defended the use of nuclear power, saying that a new unit is necessary to address shortages of supply not only in Slovakia, but in the whole of Europe, mainly in countries to the south of the Czech Republic and Slovakia.
But before new power plants are built, the countries would be wise to better utilize their existing infrastructure, Bartovský said.
"The experience with already coupled markets in Western and Northern Europe is positive," he said. "Such projects show that joining markets improves the use of the cross-border capacities, increases the liquidity of spot markets and improves the transparency of the price-setting processes for electricity," he added.
The electricity grid in the Czech Republic is becoming increasingly interconnected with power lines in neighboring countries. In April, an agreement between C(EPS, the national grid operator, and Germany's E.ON and Vattenfall came into effect. It allows for day-to-day cross-border electricity trading, in order to alleviate congestion and improve load balancing between grids in Saxony, Bavaria and the Czech Republic.
Michael Heitmann can be reached at mheitmann@praguepost.com
Email this page to a friend


Updated: 2016/06/30
If you speak another language fluently and you liked this page, make a contribution by translating it! For additional translations check out FreeTranslation.com (Voor vertaling van Engels tot Nederlands) (For oversettelse fra Engelsk til Norsk)
(Для дополнительных переводов проверяют FreeTranslation.com )