$1bn-worth GCC grid deals awarded
Nov 28, 2005 The Peninsula Qatar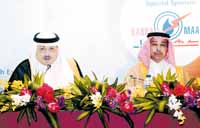 Anwar Hassan Mufti, Chairman of the GCC Cigre Board of Directors and Issa Shaheen Al-Ghanim, Vice Chairman of Kahramaa, at the GCC Power 2005 Conference and Exhibition at the Ritz-Carlton Hotel yesterday.
Doha: Contracts worth $1bn were awarded to several companies recently for Phase 1 of the electricity network connection project between Qatar, Bahrain, Kuwait and Saudi Arabia due for commissioning in 2008, while phase 2 of the project between Oman and the UAE is under way.
The project, part of the electricity grid connection between all the GCC countries involves the building of back to back stations, setting up transmission lines and control centres.
This was stated by Anwar Hassan Mufti, Chairman of the GCC Cigre Board of Directors at the opening of the GCC Power 2005 Conference and Exhibition yesterday at Ritz Carlton Hotel.
The 2nd GCC Cigre International Conference and Exhibition for Electric Power Generation, Transmission and Distribution was inaugurated by Issa Shaheen Al-Ghanim, Vice Chairman of Qatar General Electricity and Water Corporation (Kahramaa) on behalf of H E Abdullah bin Hamad Al Attiyah, Second Deputy Prime Minister and Minister of Energy and Industry.
The three-day event is being jointly organised by the GCC Regional Committee for High Voltage Electric Systems "GCC Cigre', the IFP Qatar Ltd. and Riyadh Exhibition Company (REC).
GCC Power 2005 brought together more than 300 professionals, manufacturers, suppliers and contractors from all six GCC countries and the region providing an opportunity for interaction with project directors, government bodies and a variety of decision-makers involved in the electricity sector.
The conference is to explore in detail the numerous challenges facing the electricity industry in the GCC today. Speakers include officials from GCC ministries as well as companies like Siemens AG, ABB Power Technologies, Saudi Aramco Company and Abu Dhabi Company for Onshore Oil Operations and many others.
Topics to be discussed at the conference deal with strategies for securing investments to meet demand, transmission lines, interconnections, electricity network connection between the GCC countries, energy cost optimization through the implementation of cogeneration and grid interconnection and various methods to improve transmission insulators performance.
In addition to a workshop that will be conducted to discuss problems related to electricity system black outs in the GCC and the review of case studies, an international exhibition featuring new technologies and services is being held on the sidelines of the conference.

Email this page to a friend


Updated: 2016/06/30
If you speak another language fluently and you liked this page, make a contribution by translating it! For additional translations check out FreeTranslation.com (Voor vertaling van Engels tot Nederlands) (For oversettelse fra Engelsk til Norsk)
(Для дополнительных переводов проверяют FreeTranslation.com )