Tunisia integrates electricity network between Europe and North Africa
Oct 11, 2009 - Global Arab Network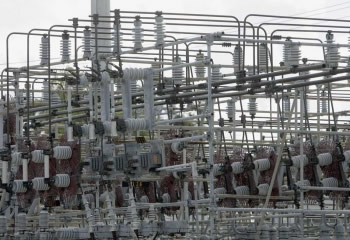 To meet the growing needs of Tunisian industry, tourism and individual consumers, Tunisia announced 2 projects to expand the electricity transmission network, and integrate between Europe and the Maghreb.

The African Development Bank (AfDB) Group Tunis approved a loan of 42,34 million Units of Account (UA), equivalent to 87.83 million Tunisian dinars (TND) (US$ 66.306 million), to finance the rehabilitation and restructuring of the electricity network in the country.

The Electricity Distribution Network Rehabilitation and Restructuring Project is an investment project dealing with the construction and rehabilitation of power lines and stations with a view to upgrading medium tension and low tension networks to meet Tunisia's economic exigencies and satisfy the Electricity and Gas company (STEG's) customers.

The total project cost is estimated at TND 111.66 million, equivalent to UA 52.42 million (US$ 66.306 million).

The main beneficiaries are the Tunisian Electricity and Gas Company (STEG), which will have a more reliable and safer electricity distribution network, increase the quantity of energy sold and its turnover, and improve the safety of workers and third parties; and small and medium-scale industries as well as the tourism sector and resident subscribers who will benefit from better quality service.

Tunisia's economic development and improvement of the people's standard of living have led to a significant growth of electric power consumption (5% per annum) and the saturation of the distribution network. Furthermore, certain plants and installations are under-size and no longer appropriate to carry the current network load. This concerns particularly low voltage underground and overhead lines and the electrical equipment of medium voltage and low voltage distribution stations. These installations are the cause of electrical overload, technical losses and high voltage drops, sometimes higher than 20%, which is clearly above the accepted levels stipulated in STEG's contract specifications (7% for the medium voltage network and 10% for low voltage).

The project concerns all regions of the country. The relevant installations are located in all the country's governorates distributed in STEG's 7 Regions and 38 Districts.

The Bank is one of Tunisia's key energy sector partners. Since its first operation in 1975, it has financed seven projects. The AfDB's net commitment in the sector is estimated at UA 211 million, equivalent to 437.74 million TDN (US$ 330.43 million)

Tunisia's recent strong growth has, according to IMF figures, seen its economy double in size over the past decade - from around €13.7bn at current prices in 1998 to €27.7bn last year. This major increase – much of it prompted by Tunisia's growing integration into European markets – has placed a significant strain on the nation's energy infrastructure.

Tunisia's expanding ties with the European economy has led to the almost simultaneous announcement of a plan to integrate the national grid with that of Italy. The €2.09bn project, a joint-venture between STEG and Italy's electricity transportation company, will see a 200-km long 1000-MW high-voltage direct current (HVDC) submarine cable link the two Mediterranean nations via El Hawaria in Tunisia and Partanna in Sicily. A 1200-MW plant is also due to be built in Tunisia as part of the deal, which will provide Tunisia with 400 MW of energy, with the remainder expected to be transmitted through the cable to Italy. The cable flow, however, will be bidirectional, thus connecting the Tunisian grid with the rest of Western Europe.

The plan to connect Tunisia with Italy falls under a wider Euro-Med strategy to integrate the electricity and energy networks of Europe with the oil- and gas-rich Maghreb. Due to its geographical proximity to Algeria and Tunisia, Italy is proving the natural lynchpin of this strategy, with the existing Transmed gas pipeline linking it with Algeria due to be augmented next year by the planned Galsi pipeline. When pipelines to Spain are also included, gas capacity between Algeria and Europe will rise to 62bn cu metres a year within the next five years.

The vast majoriy of Tunisia's power comes from thermal sources, namely, oil and gas. About 97 percent of electricity is generated from thermal power plants, leaving 3 percent of power being generated from hydroelectric and wind plants. In 2004, the Tunisian government invested $687 million in the country's energy sector to in order to raise electricity production in existing thermal plants, as well as aid the search for additional oil and gas deposits.

Ninety-six percent of all households are electrified in Tunisia, compared to 86 percent in 1994 . Demand for electricity is growing at 7 % per annum.

In 2002, Tunisia's first independent power plant (IPP), a $261-million, 471-MW, combined cycle (natural gas and diesel-fired) power project was completed and went online at Rades. The IPP is owned and operated by the Carthage Power Company. . In July 2003, Tunisia's second IPP, a 30-MW associated gas plant began commercial operations. CME Energy operates the second IPP.

In recent years Tunisia has been focusing on development of renewable energy resources. In May 2003, Tunisia announced that twelve additional windmills would be added to the wind farm in Hawariya, bringing total capacity to 20 MW. Global Environment Facility (GEF) is providing $10.5 million to build windmills in the country and the German Technical Cooperation Agency has also providing finances for wind power generation. In December 2004 the agency, the Mediterranean Renewable Energy Centre was launched in Tunis. The objective of the agency is to promote and develop renewable technologies across North Africa.

The state-owned organisation responsible for electricity generation, transmission and distribution is the Société Tunisienne de l'Electricité et du Gaz , known as STEG. The company has exclusive rights to import and export electricity. STEG operates 4 power stations and a dispatching centre. The company also distributes gas, owning a pipeline from El-Borma to Gabes. The company generates approximately 80 percent of Tunisia's electricity.

In 1996 the government withdrew STEG's monopoly for power generation in a move to allow private power generation projects. STEG will still be responsible for transmission and distribution (and retain control of existing power generation facilities). Build-own-operate projects are to follow.

The company has built 20 power plants (combined cycle, steam and gas turbine, hydraulic, and wind) so far. The first wind power station of 20 MW came into effect from 1999 in Sidi Daoud in the North East of the country. STEG plans to implement a second project with an additional capacity of 40 MW in 2006.

Tunisia's transmission network involves 60 HV substations and about 5000 km of HV lines. In terms of interconnection, STEG's transmission network is connected to Europe through networks in Algeria and Morocco. Interconnection with Libya will allow for the possibility of the extension of the synchronous zone with Machrek countries, which means, interconnection from Syria through Libya, Egypt and Jordan would take place.

Tunisia is also looking at the possibility of a transmission line running from Egypt to Morocco, whereby a feasibility study has already begun. A link between Tunisia and Italy is also being considered so that opportunities of commercializing energy can be developed between the two countries.

STEG have been given the mandate to distribute more than 120 000 km of medium voltage and low voltage line all over Tunisia. Efforts will be in the near future to focus on improving the urban networks and modernizing the network system operation in the country.
---

Email this page to a friend


Updated: 2016/06/30
If you speak another language fluently and you liked this page, make a contribution by translating it! For additional translations check out FreeTranslation.com (Voor vertaling van Engels tot Nederlands) (For oversettelse fra Engelsk til Norsk)
(Для дополнительных переводов проверяют FreeTranslation.com )